Hello,
I am editing Nostalrius server (more for fun tbh, maybe one day I'll host it.. Who knows!) and as I noticed some map bugs (well, plenty of them) I've downloaded RME (TwistedScorpio's RME) to fix the issues.
I noticed that there are unique numbers for each quest, in RME they're called 'Quest Chest Number' and rewards can be manually added under 'Contents' without playing with scripts, Action or Unique ID. Please see below an example from Anni: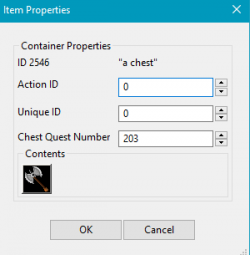 I need your help to find the list of Chest Quest Numbers so as to see which are taken. I've tried using google & Search option here but couldn't find anything useful. I don't see the list of the quests in the lua/xml files, I can't find anything in RME. I thought that something might be in the database but again, no luck.
If I have the same quest number in two chests I can - understandably - collect only one reward and when opening the 2nd chest it gives info that reward is already collected which is pretty useful but it makes a problem when I'm adding new quests and when I make duplicate quest numbers in error/by mistake.
Thank you in advance.