Joined

May 26, 2017
Messages

51
Solutions

1
Reaction score

13
So I recently decided to try go TFS 1.4 from 1.3 and downloaded this one:
GitHub - otland/forgottenserver at v1.4 (https://github.com/otland/forgottenserver/tree/v1.4)
I compiled it and it gave no errors, however on startup I get error with Lua Scripts(Data/Scripts) files. I tried to delete one and it stills then tells its error on the next one. Here is a printscreen of it.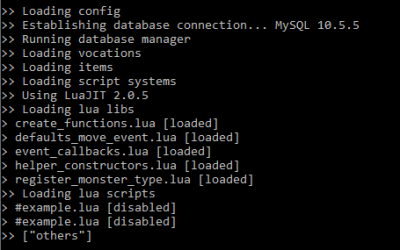 I have tried to download other datapacks and tried theirs Script map, but seems that it wont work. Anyone else have had any problems with this or know a datapack that has a /scripts that actually work with TFS 1.4?