Joined

Jun 10, 2007
Messages

1,625
Reaction score

283
Location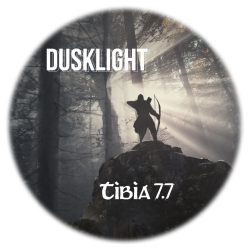 ​
Did you ever get to play Tibia back in the glory days?
Want to relive the absolute game again, the actual game without OpenTibia changes or flaws?
Want to attempt the infamous Annihilator or engaging in thrilling PvP using the original client and game design?
This server is the actual gameserver from 2006, completely functional with housing system, deathlists, guilds and premium features.
J
oin our discord for direct contact and quicker replies aswell as chatting with the community.
Dusklight Discord Server
However we would like your input on the rates and minor changes that we've made.
S
erver &
C
lient:
There will be no payments for premium accounts on this server, when that is added it will never be affecting this gameserver.
The client is the original client with changes made to make it run smoother, an in-game display of your current latency.
There is 3 proxies available as of right now, 2 EU and 1 US (East Coast).
You'll connect by selecting whatever proxy you pick, picking the one with the best geographical location & latency from your location.
The server is the original 7.7 with changes to make it act more like 7.4.
The spell-system has been reverted back to using magic level rather than experience level.
The mana requirements for spells is also changed accordingly to the 7.4 values.
The regeneration is doubled compared to 7.4, you regenerate at the same speed but gaining 2 mana & hp per tick instead of 1.
The mana gained by using manafluids is equal to 7.4 values and they also cost the same as the did in 7.4.
You are able to buy runes from the in-game magicstores at the same price that they were introduced at in 7.7.
The rate of which monsters spawn has been increased to 3 times faster.
The server runs as a PvP-Enforced server but with skulls and with regular exhausts rather than the one second exhaust it used to be for offensive spells.
The skull system works like this:
Everyday at 6 AM while the server saves the game all unjustified kills are removed from all players.
If you get 5 unjustified kills before server-save you will get redskulled, if you double it you will get banned for 7 days.
Below we got what we need your help to decide
Magic Rate
Skill Rate
Experience Rate
Loot Rate
Gameserver Name
The current setup is
Magic Rate 4x
Skill Rate 4x
Experience Rate 7x
Loot Rate 5x
(The loot rate might sound high, but it really isn't as much as you'd expect if you compare to most OTservers that got incorrect values to start with)
The gameserver name is the name you will see next to your character in the login screen.
Dusklight is the collective name of the community.
The server is up and running and a testing environment will be setup for the public soon.
FAQ
Q: There used to be a bug where you could push people through floors in the real game aswell, is this present here?
A: No it isn't, we've actually managed to fix it with reverse-engineering and patching the engine.
Q: Are you able to run constantly and still shoot bolts & runes without delay?
A: No you are not, this is call it a skill-cap if you may, a player that is familiar with how the game worked will have a much higher damage output than a player that just runs mindlessly and shoots runes without taking into account the factors of just shooting rather than waiting for your distance attack to go off first etc.
Q: Can you move rings to your finger slot while running?
A: No you cannot, it is exactly like it used to be, you can only do one action i.e if you are running you cannot move items. This might sound stupid and odd but again it's how the game was designed and it is a part of the skill-cap.
Last edited: