Hello folks! I am extremely happy and excited to announce our next Midhem Online - Feast Season 7 - one of the most customized OTServers out there. This season will not be time-limited like all the previous seasons but closed down when there is no activity. All points are then returned and valueable prizes are handed out. Experience rate may seem too low for many but keep in mind there are many many ways of raising your experience bonus.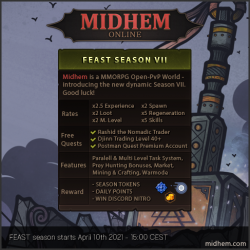 New features and updates for Season VII.
Vocation Bonuses

druids: 10% damage reduction PvP/PvM
sorcerers: 10% rune damage
knights: 20% damage bonus with two handed weapons
paladins: 10% base speed bonus

Party Vocation Bonuses

druids: 20% healing rate runes and spells
sorcerers: +10% crit chance
knights: 10% damage reduction PvM
paladins: 10% PvP damage

Daily Rewards - As a premium account you are rewarded with one of 12 very valueable rewards every 20 hours.

8 new outfits (+1% max HP and +1% max Mana per outfit) - here are 3 of them.
... and much much more.
Save the date!
Next season will start
10th April 15:00 CEST.

Midhem Online (https://midhem.com)
Join the Midhem Online Discord Server! (https://discord.gg/xRE53zC)