Joined

Dec 27, 2020
Messages

9
Reaction score

12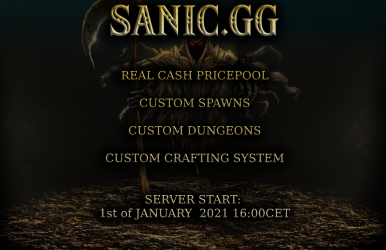 Hello Tibian. We want to make you aware of the launch happening 1st of January 2021, of the new server
Sanic.

Why should I play on Sanic?
- We bring you a new concept of RPG/PVP where you can fight with or against others to compete for the compelling pricepool, which will be paid out after the server season ends. The first season in Sanic will last for 31 days. Within these 31 days you can fight player vs player battles, teamhunt with your friends, complete dungeons and complete challening quests that are all custom made by the Sanic team.



When the season ends after 31 days there will be a prize pool that the three highest players in Sanic will win. The prize pool will be public on the website on the left side of the homepage. The amount will start from 150 Euros at the begining of the server but note that it will increase during the season.
The increase of the pricepool will depend on the donations to the server. The prizepooltotal will be public and it will start from 150 Euros minimum on day 1 of the season release.

It is not hard to level you character but it will be very painfull everytime your character dies!
The Sanic staff has been working hard to balance the experience rate and the experience loss to make sure that everyone can win the prize pool. Even if you start playing our server two weeks after the season start you will be able to compete for the prize!
When your character dies threw pvp or pve battle you will loose 25% of your characters total experience. With blessings on your character the death penalty will be reduced to 10% of your characters total experience. However there will be no skill loss to your character if it dies.





Ofcourse, dont forget to have much fun on your journey.


Sanic content:
Real Cash Pricepool 150$ minimumWIN
Gear Tier System
Tasks & Missions
Raids
Sanic Promotions
25% Deathloss
Custom Crafting System
Custom Client
PVP
How long is a season?
- Beteween 28-31 days. The first season will last 31 days.
Can I bring my team?
- Oh yes. The more friend you are, the more fun you will have.
Where can I find more information?
-
On our website
www.sanic.gg
. We have added A LOT of information about all content (Tasks/Spawns/Dungeons/Raids/Quests) that we have custom made.
How can I contact you?
- You can join our discord at: Join the Sanic OT Discord Server! (https://discord.gg/cjGWjZ4JhY). There you can find our Administrators, ready to answer any questions you might have.

See you soon !