Joined

Dec 17, 2011
Messages

1,213
Solutions

27
Reaction score

682
Location
Hi! Today I will share the modules of my custom client. My server already had a testing phase, but this client wasn't enought to attract too many players. So I decided to release it (it doesn't include .spr file):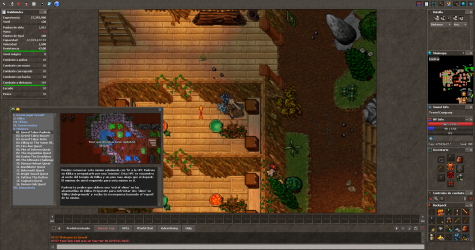 What does the modules/data contains?
a) Textured and coloured UI interface, did all that using Photoshop to every panel and UI graphic.
b) In-game guide module (can be customized with images, a contextual menu and text).
c) Rc-Sound module. It changes the song that the client plays based on areas. The current track can be seen on Sound Info panel. It has Final Fantasy X tracks sampled to be an infinite loop with ambience (people noise, time stations, etc.) (made on Adobe Audition).
d) OTC-bot based on Lunia's bot.
e) Fixed battle window for 8.60 client.
f) Researched everything to make it work the best as possible with 8.6.
g) Optimized action bar (without icons for 8.6).
h) Oen's module for location change (it shows a square with the name of the area).
i) Minor reworks for outfit window
j) Minor reworks for shop module
Direct link to repository
A fork of mehah's and edubart otclient, optimized for Tibia 8.6. - GitHub - ralke23/Greed-OTC: A fork of mehah's and edubart otclient, optimized for Tibia 8.6.
github.com
There's other minor modifications, I think that anyone who wants to host and 8.6 and want to run an 8.6 anti-bot client will surely appreciate this modules. You will only need to change the RSA key that comes on gamelib and compile mehah's client with anti-bot instruction.
I am very newbie using Github, didn't know how to fork main OTC. But everything is inside the repository, including original licence (please let me know if it is uploaded right). I hope this is helpful to many, did a lot of effort to build this.
Regards!
Last edited: