Joined

Jun 2, 2018
Messages

1,058
Solutions

31
Reaction score

458
uhh goodness that i saw this thread this guy was trying to sell me a code and the said that it wil took him 7 to 10 days to create it dxdd it was add virtual inventory to monster so they can wear the items that monster will drop on death, ofc this will increase defense or strenght in monster who are wearing carrying these items+ create loot on rebirth( like on rl)

are you able to do this ? and how much would it cost something like this?

@Syiko

aside how much this would cost?

"They could cast all their attacks on the same interval.

Ranged monsters execute actions every 1 seconds at a distance, as well as take an extra attack while stepping. Because of this, they are more likely to combo/spam attacks while running towards/away from you!

If monsters are in melee range, they will revert to casting spells every 2 seconds."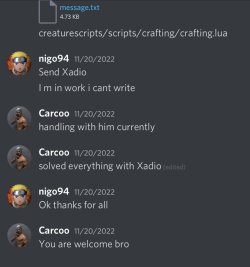 Just an idiot can't write english properly said im not capable of coding while he was learning from me do you want chats for how much i was explaining to him?🤣🤣🤣 this community is a great joke, how many of my free codes areyou using before accusing me with scam or incapability 🤣
Note; first screenshot shows that im working with multiple clients and in providing high quality products so i don't care about your task
.
Second screenshot showing i was learning that guy and even helping him in my code that i paid for 🤣 if i found whatsapp chat i would send you a bunch
Attachments
A17C2BE2-A2DA-4F59-989B-D2857CD0A932.png
Last edited: