Joined

Feb 26, 2019
Messages

26
Solutions

2
Reaction score

14
Location
This is Auction System, converted to MyAAC.
Tested to 0.3.6 / 0.4
Configuration you can find in files: system/pages/auction.php
Demo: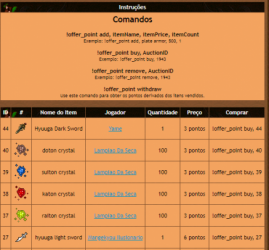 Installation:
Download the plugin
Go to Admin Panel, select 'Plugins', and then select myaac-auction-system.zip and click upload. Thats all!
Place the file => auctionsystem.lua <= in
data/talkactions/scripts
Add the tag
<talkaction words="!offer_gold" event="script" value="auctionsystem.lua"/>
in talkactions.xml
PS:
The system was tested and did not present any problems, but if they come to find faults, please report so that I can keep the topic updated / corrected.
I make corrections in the system if it is wrong, but I do not make adaptations for your server. If you want variations of the system, please send your order on the Programming Academy discord, or on my private discord: Endless # 5410
Crédits:
@tottin
Code Credits:
Trade OFF - Shop Offline (https://tibiaking.com/forums/topic/34172-trade-off-shop-offline/?tab=comments#comment-192640)
​