Joined

Mar 7, 2017
Messages

103
Best answers

0
Reaction score

24
Hello friends of Otland.
I would like to introduce you to my project called Olimpia.
It is in the finalization phase of development and if everything goes as planned, it is expected to be released in February 2019.
Olimpia is an alternative tibia server based entirely on mythology, nordic and greek. We have new items, new monsters, new spells and new classes.
• Basic Information •
- Version: 10.98
- Rate Exp = Stage (starts in 100x)
- Rate Skill = 80x
- Rate Magic = 65x
- Rate Loot = 2x
- Rate Spawn = 1x
• A lot of unique and beatiful caves •
• Comparison of itens•
- When giving a look at an item better than yours, the game shows you that item is better or worse.
• Task system •
• Private hunt accessible with boss items •
• Olimpus •
- We have a new continent called Olympus, place of the gods. With new monsters, new items, new quests and more.
• Server focused on equality and is not pay2win •
• Equipment Upgrade System. (+1, +2 .., +10) •
• Equipment Ranking •
- In Olimpia, there are 3 types of rarities for the items, and they are dropped according to the class of the monster.
The Rarities are:
- Rare: Items stronger than the common ones, are the best choice for low-level players. Can be dropped from any White Skull monster.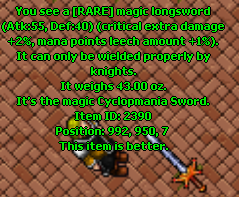 - Epic: Items that are stronger than Rares are the best choice for mid-level players. Can be dropped from any Yellow / Red Skull monster.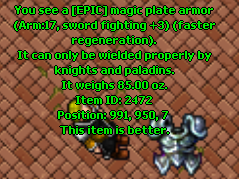 - Legendary: Most powerful items in the Game, are the best choice for high-level players. They can be dropped only from Black Skull monsters and obtained through quests.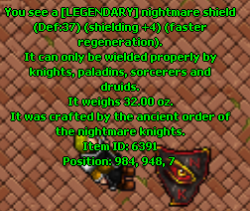 - There are also stones that can turn ordinary items into items with rarities. And they are obtained through quests around Olympia.
• Monster Level and Class •
- In Olimpia, each monster gets a random level when respawning. This level determines a bonus damage, speed, and hp on the monster.
Each monster has a min and max level range and Bosses have a higher level compared to normal monsters, the creature randomly receives a skull and this determines a series of modifications in the monster and the bonus that the player receives when he kills him.
• Skill Points System •
- Each player receives one point per level, which can be distributed in more life points, mana points, cap, skill, speed and more.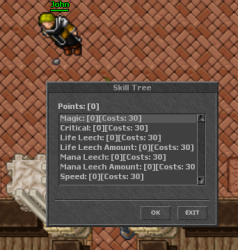 • Two new classes added to Olimpia •
- Monk / Fist Master:
- Uses Gloves weapon, has spells focused on one-target, and buffs of movement, skills and regeneration (in himself and in the team).
It has fast movement and fast hp regeneration.
- Samurai / Ronin:
- Uses the Katana weapon (Two-Handed), has spells focused on small and large cuts and debuffs on targets.
It has fast movement and has a chance to cut twice the target at the same time using his katana.
• Mythological monsters •
- A lot of monsters from Greek and Nordic mythology, get your team together to face them.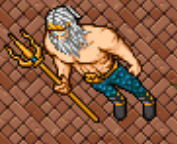 • Serve a God and and increase your devotion level •
- Each player can choose a God to follow and increase their ranking. Each ranking level grants you various bonuses, hits and rewards.
• Dungeon System •
- It works with the !godungeon command, there is a team queue where 4 players need to confirm the presence.
After that, they go to a cave where the exp and the loot are increased and only leave dying or killing the final boss.

• Protect The Castle (Blood Castle) •
- Event that occurs every 3 hours, where players have the chance to show their value to the king of Olimpia,
protecting the castle from the waves of monsters from the terrible, Arruined King, formerly corrupt king who was taken away by the people.
• Unique Mounts. •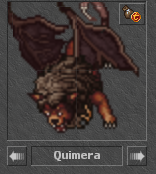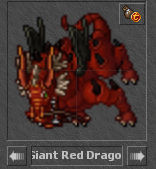 • Soul Coin System, all monsters can drop this coin which is one of the most valuable coins in Olympia. •
• Hunts and Quests focused on teamplay. •
• Some addons made by items and others obtained during question in hidden places. •
• Life leech, mana leech, critical and evade working 100%. •
• A lot of new Spells •
• War System 100% •
• Player support for the page at any time. •
▬ ▬ ▬ ▬ ▬ ▬ ▬ ▬ ▬ ▬ ▬ ▬ ▬ ▬ ▬
Project Development - Current Statistics:
Mapping: 60% Done
Quests: 5
Hunting places: 40
Houses: 75% Done
Systems: 70% Done
Website: 60% Done​
▬ ▬ ▬ ▬ ▬ ▬ ▬ ▬ ▬ ▬ ▬ ▬ ▬ ▬ ▬

I'll take some time to come here to update you with the news. I hope you have enjoyed the project and are as anxious as we are.
Feel free to talk, give ideas and give us feedback.

Best Regards

​