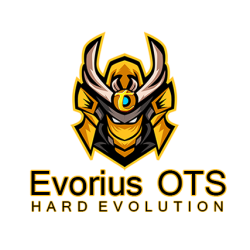 Offical start date:

09.09 - 18:00 GMT +1
server got 40-50 days beta tests

USA Hosting [OVH]



OTClient with vBot and Target Bot inside.



EXP Stages on Evorius:

​
From level 1 to level 50 - exp x30​

From level 51 to level 100 - exp x25​

From level 101 to level 150 - exp x20​

From level 151 to level 180 - exp x15​

From level 181 to level 230 - exp x10​

From level 231 to level 260 - exp x8​

From level 261 to level 300 - exp x5​

From level 301 to level xxx - exp x3​
More rates:
Skills rate: x5
Magic rate: x3
Loot rate: x2
Spawn rate: x5

Systems:​
UNIQUE REBIRTH SYSTEM + BONUSES!​

New custom POWERFULL items like last available sword 160 atk to hunt custom monsters!,​

Fast regens, task count in party, working shared experience,​

All systems works in PARTY! Take your friend and come on start!​

Custom upgrade system (custom attributies, max +50),​

Custom task system (collect rewards, toknes, quests points),​

Unique boss room system (you can kill bosses for quest points or cash in game),​

Unique paid experiences rooms! You can rent very nice hunting place on 2 hours for cash ingame,​

Automatic raids on Evorius City! (very rare items from event monsters),​

PVP Balanced has been installed on server,​

Here is custom spell formula! If your level is bigger you make more damage!​

and much much more.​
More info:​
Working events (SafeZone, Battlefield, Snowball, Dream Of Gold and more),​

Working minigames (Snake Game, Bomberman Game),​

Long-term project, after 2 months beta-test,​

Secomd vocation from 150 lvl + new spells/items,​

New custom monsters on high lvl players,​

New custom cities and hunting places on server,​

Some % map we take from RL MAP for better game experience,​

Team Evorius all the time working on Server,​

Weekly big updates for our players.​
More details:
Server is after:
50+ days more beta tests.
Server is ready to play and
long-term
for everyone.
Give this server one last change, you will see its new better and bigger project.
Server made from players to players.
See you on Evorius offical start.
Date: 09.09.2022 (18:00 GMT +1)
Webiste:
Latest News - EvoriuS (http://evorius.org/)
Active Discord:
Join the Custom EVO 10.98/12+ PROJECT Discord Server! (https://discord.gg/wVUwJ5RHme)
Server friendly for friends (all systems works in party) shared, tasks, and more.

Custom Hunting Rooms!
Huge Quest Room (almost 100+ working quests)




Second Promotion + New Spells/Items!




Custom City 300+




Exclusive Houses with Trainers




Cursed Chests on Hunting Places - beware!




New low lvl monsters for profit 'Kartens'




Working Enchanted System (rubies)
See you on Evorius.org!

(long-term project)



We know about teka123, czaja, and more fake account who will make spam in this topic, one from me i dont want ask on this posts. They flame our server from start, because i working with teka123 with one project, and he cry now because he can't make a own server because he don't know how to run server on linux. Czaja is troll from torg, and have also pain-ass (just dont care about them fake accounts).



Thank you guys!

​