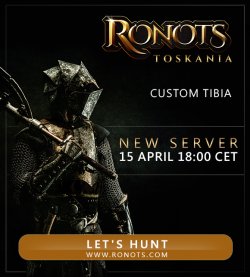 ​

We're happy to announce that on Apr 15 (6pm CET) starts our new HIGH EXP, PVP server named "Toskania". It was one of our most famous server of all times. We have already run couple editions and everyone of them was able to gather a lot of players. It's suppose to be nice and easy to play at the beginning, until the wars will start over.

About RonOTS:
» Exists since 2006
» Unique engine and systems
» Stable EU datacenter

About Toskania:
» Exp 100x - 50x
» Loot 3x
» Regular PVP
» Client: OTCv8 (customized protocol), no bots allowed

Unique systems:
» Gem system: you can upgrade your regular items
» New unique spells
» Magic charges for a knight / paladin

Sprint Update 2022:
»The largest map and the most complex map we have ever made
» 2h of stamin premium per day
» Bonus exp for spectator mode / premium account
» New respawns, refreshed towns (Carlin & Thais)

Refer to server's official website for more details: RonOTS najlepszy serwer OTS, Open Tibia Server (Serwer) w Polsce. - (OTS) The best way to play Tibia! (https://ronots.com/)


CREATE ACCOUNT

Discord:

Discord - A New Way to Chat with Friends & Communities (https://discord.gg/MJqdqYUP)

If you feel like contacting us, feel free to drop us a message at

[email protected]

.



​