Joined

Aug 11, 2021
Messages

56
Solutions

3
Reaction score

12
Guys I really need help here.
We started our BETA version yesterday. Evrything was working properly until I went out for some rest.
Players started complaining about a couple rollbacks during the night. I went to my journal and I figure that has been some tfs.service errors during the night, like this: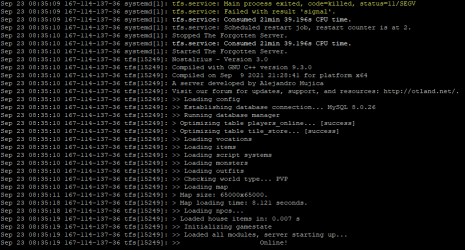 I thought it was because of the regular saves, and tried to remove it to keep only one big server save every 24h.
Server started running ok, but than I tried to reduce the server save time so I could test it.
Another rollback with the same error.
I saw a post in this forum saying that I had lack of RAM. My server was running with about 270 players with 8GB RAM.
I tried to increase RAM to 32 GB and than everything crashed and I can't even open it anymore.
I have a whole community asking about it, would you guys please help me?