Hello everyone
I Was trying an Ot founded by an author on this forum the server 12.60.
All was working fine, databaste, page, all very perfect, just when i try to load in game, because i want only play in localhost ( im nostalgic from tibia )
I got the error The remote host closed the connection.
So i check all ips, config.lua, config.php , and all has the same, tried 127.0.0.1 , my ip in local and localhost, but nothing working.
After that i check console, and the database gived on the post 12.51+ , has not the column called lookmountbody ( and i dont know how to add it ? ) , and give's this error on console when i try to login.
Anyone maybe know how to repair this error ? I look the forums but, i dont understand all, some people tell to change the login.php ( on mine is only 3 lines lol ) and they copy paste a large codes, but this codes are not for 12x version.
If someone could tell me where the error came from that would be really great and I would be very happy
All informations, im using UniserverZ last version
the otservbr with the gesior tibia evolution and correct client 12.60 ( set up correctly in lua )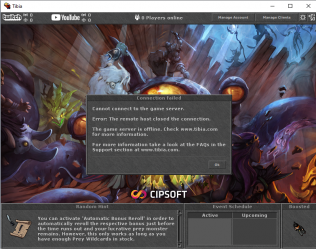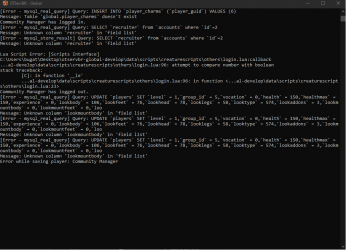 The codes , in uniform server login.php
<?php
$_GET['subtopic'] = 'ws_login';
$_REQUEST['subtopic'] = 'ws_login';
include('index.php');
The config.php, the parts editables:
# Using Ajax Field Validation, this is important if you want to use ajax check in your create account.
$config['site']['sqlHost'] = "127.0.0.1";
$config['site']['sqlUser'] = "root";
$config['site']['sqlPass'] = "123456";
$config['site']['sqlBD'] = "global";
The line of server path:
# Account Maker Config
$config['site']['serverPath'] = "C:/Users/bugat/Desktop/otservbr-global-develop/";
$config['site']['encryptionType'] = 'sha1';
$config['site']['useServerConfigCache'] = false;
The config.lua:
The first:
-- Connection Config
-- NOTE: maxPlayers set to 0 means no limit
-- NOTE: MaxPacketsPerSeconds if you change you will be subject to bugs by WPE, keep the default value of 25
ip = "127.0.0.1"
bindOnlyGlobalAddress = false
loginProtocolPort = 7171
gameProtocolPort = 7172
statusProtocolPort = 7171
The second part of mysql
-- MySQL
mysqlHost = "127.0.0.1"
mysqlUser = "root"
mysqlPass = "123456"
mysqlDatabase = "global"
mysqlPort = 3306
mysqlSock = ""
passwordType = "sha1"
There why i edited on this archives, nothing more
Thanks