Joined

Aug 25, 2009
Messages

8,881
Solutions

1
Reaction score

714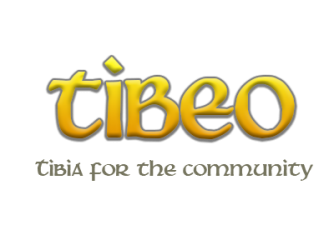 Join us on Discord!
Join the Tibeo Discord Server! (https://discord.gg/cvkm9jQRFx)
Welcome to Tibeo!
What is Tibeo?
Tibeo is an Open Tibia server based on 8.60 with future plans to revolutionise Tibia. We want the community of players to decide the fate of Tibeo development and economy.
So is this is a custom server?
In a sense. We'll have a 100% global Tibia but certain features will need to be voted in by the community. Tibeo Staff have no plans to add custom content away from Global Tibia but this may be an option in the future, depending on what the community wants!
How will the community shape Tibeo?
The community will play an important part to the future of Tibeo. We will frequently host polls on our website which will allow the community to vote on updates. These updates will be from CipSoft themselves and we will follow the update path, how much of it varies is entirely down to the community! You can view potential new polls in the Updates page of Tibia Wiki.
Updates | TibiaWiki | Fandom
So the fate of Tibeo is in the communities hands?! How will this work?!
Tibeo Staff will host a poll based on the updates that occurred in Tibia. Each poll will need 75% of votes to pass, with a minimum of total votes (to be decided). Once passed, the Tibeo team will put a plan of action into place and publish the progress on the website.
What happens when a vote doesn't pass, does this mean it will never be added?
Not necessarily. The poll may be re-added at a later date for the community to vote again.
Wait, wait, wait! You're telling me that a latest update could be applied but an older update might not be?
Well, if that's what the community wants! We'll be following the Tibia update path as linked above. If the poll doesn't reach it's requirements, then it won't be added. This means Oramond (added 10.50) may not receive enough votes but The Secret Library Quest (11.80) will exist! Tibeo is built by the community!
And what about the client?
A custom client of course! Based from otclient, Tibeo will have it's very own client which will enable the community to embrace the changes they voted for!
I really want XXXX update to be applied!
The community will vote on updates. Tibeo will be built for the community. Tibia was never meant to be a solo player game!
Pay 2 win? I don't think so!
Tibeo are very cautious about the item shop and donations. All items in the web store are obtainable in game.
How can we buy points?
Tibeoans will be able to buy points using CryptoCurrency only – for good reason! Further explanation below.
Withdrawal of points to Cryptocurrency
Not only will you be able to spend points in the store, you'll also be able to
redeem points for CryptoCurrency
! The exact Cryptocurrencies we'll work with is to be decided.
Is botting allowed?
Cave botting is strictly prohibited as this causes massive in game economical issues. Considering we are allowing Cryptocurrency withdrawals, we do not want this to turn into a massive botting server for play to earn.
How can we buy points with ingame cash?
The same way Tibia Coins work. Players will purchase points and redeem a point paper in game. The Point Paper can be redeemed for 25 points and is tradeable. The cost of this will entirely depend on the community!
What about the EXP rates, loot rate?
Tibeo is dedicated to being a long term, serious server. Our rates reflect this.
​
| | |
| --- | --- |
| Level​ | Stage​ |
| 1-50​ | x50​ |
| 51-70​ | x35​ |
| 71-100​ | x20​ |
| 101-120​ | x15​ |
| 121-140​ | x10​ |
| 141-160​ | x5​ |
| 161-200​ | x2​ |
| 201+​ | x1​ |

​
| | |
| --- | --- |
| Misc​ | Rate​ |
| Magic Level​ | x2​ |
| Skills​ | x2​ |
| Loot​ | x2​ |
| Spawn​ | x2​ |
| Red Skull Frags​ | x6​ |
| Black Skull Frags​ | x12​ |
| Red Skull Length​ | 3 days​ |
| Black Skull Length​ | 6 days​ |
I want to be a part of the team!
Tibeo isn't actively hiring at the moment, but we're always open to speak with talented people! Reach out to us on Discord!
How will you be attracting a community?
We'll be reaching out to streamers and exploring other advertisement opportunities. Further to this, we'll also be introducing a referral system for all players.
If you're a streamer or have suggestions, please reach out on Discord!
Sounds amazing! When do you launch?
Launch date is to be determined. We'll be opening a short BETA in due course to allow for testing.
TL;DR
Tibeo is a Open Tibia Server based from 8.60 which the community will decide updates based on Tibia updates. Further to this, players have the option of cashing out their shop points to Cryptocurrency. It's a custom client.
I'd like to discuss with the community the idea in general, answer questions, discuss the rates and how it would work!
Join us on Discord!
Join the Tibeo Discord Server! (https://discord.gg/cvkm9jQRFx)
​