Effective layout and paths
Mappers Guild Tutorial
Written by: Andreew
Introduction​
I want to talk about layout, having a good layout ensures that the game's movement flows for the user. Achieving this will ensure the most pleasant gameplay and enhance your maps a lot. remember that this is my opinions and its not strict rules but more guide lines. hope it helps someone!
Paths​
Getting into the habit of making good pathways for your hunting grounds will make sure your players have a good amount of space to move around. Using most of the decorations on the side of the path makes for a much cleaner look and easier to navigate.
I've made 2 examples for the purpose of this tutorial.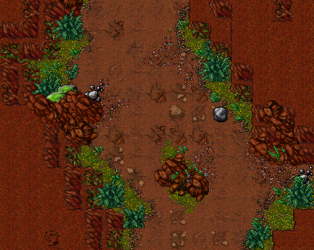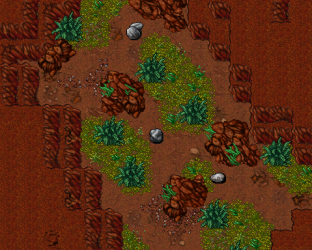 As you can see in the first image to the left, the details are pushed out and follow the sides of the cave, this makes for a much cleaner pathway for the player to move around.
On the second image the details are more all over the place and it does not look too good and is clunky when it comes to gameplay and moving your character.
I would like to go over my thoughts when making the path in the first image.
I wanted to have a clean path for the player to walk on, But i also wanted something in the middle of the path that the player can use to kite the monsters chasing them. And I wanted to have some spots that help the player control how many enemies are hitting them at the same time.
Don't be afraid to have somewhat big empty spaces, every square does not need to have something placed on it, and if you feel its too empty try mixing up the grounds and borders and use walkable items like gravel or grass tufts to fill in the blanks without changing the way that the player have to walk to get from one point to the other.
Having some tight spaces around the hunting ground is not a bad thing, to be able to control how many monsters to fight at once, locking yourself into a bottleneck making sure you only fight one or two enemies at the same time. This comes in handy for players that are maybe a bit too weak to hunt this spawn in a comfortable way.
Now that we have talked about the spawn on a small scale, let's move on to the overall feeling of the spawn and its layout.
Effective layout​
The layout of your spawn is important, having the right layout will ensure that the players have a suggested route to walk. Having a suggested route to walk is a make or break for me if I'm liking to hunt at some spawns or not.
I would like to take cyclopolis as an example of a spawn that I don't fancy too much and the reason for that is that it has so many dead ends.
You walk a path and then you have to walk all the way back to continue into another path and then again you have to walk all the way back to take another path and so on.
It just doesn't feel very good and creates way too many minutes of no action and just walking.
One spawn I would like to use as a good example is the first floor of edron earth elemental cave. It's not perfect but it's much better and more fun to hunt in terms of player activity.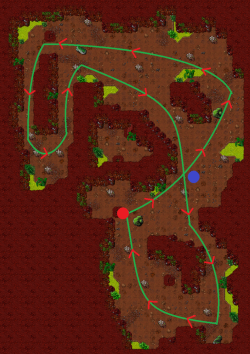 When you enter the spawn at the red dot, you can follow the green path that I painted for you. (hope you like my painting skills)
And the only time you walk at the same place as you did before is at the blue dot.
It's a small spawn but because of how it is designed the layout ensures that the player will always face some enemies and that they will have the time to respawn before the player reaches that part of the route again.
Doing this creates a much more engaging hunting session with less downtime and if you combine this with a good looking environment the players will love to hunt here.
Now the example of this tutorial has been caves but this can be applied to all sorts of hunting grounds such as tombs, mountains and even cities.
Making a suggested route doesn't mean you have to make every spawn so that you can walk around in circles but having different routes that the player can take is to make sure that the hunting session will stay action packed and have as little downtime as possible.
Summary of this tutorial​
Keep your paths clean, push decorations out to the edges and use walkables in the middle.
Have a suggested route to walk so players don't have to double back the same way.
here is a link to a pdf file if you feel its easier to read like this
effectivelayoutpaths.pdf (https://drive.google.com/file/d/1WyD8MtRkn-xy_1ZqoVHOkAsxrtJylgAU/view?usp=sharing)
liked this tutorial? make sure to join our discord "
Mappers guild
" for more tutorials like this.
have a great day!