Launch date: 30/09/22 18:00 UTC
Latest News - Grindcores (https://grindcores.net/) is a new 12.6+ custom server with a keen focus on character upgrading and grinding. There are over +40 unique items which either upgrade your character temporarily, or permanently forever.
#
Character and Item Upgrading
:
​
​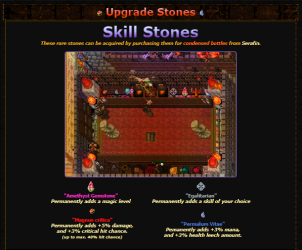 Build and develop your character the way you want to play! Almost every character, equipment, weapon, etc.. stats can be upgraded with our extensive upgrading systems.
Become a respected legend by being an undefeatable knight with an insane amount of health, or a sorcerer with the strongest hitting gran mas flam.
Choose from over +40 unique items to transcend and reign down terror on your foes.
Read more: Upgrading Systems - Grindcores (https://grindcores.net/?upgrade)
#
Map & Teleports: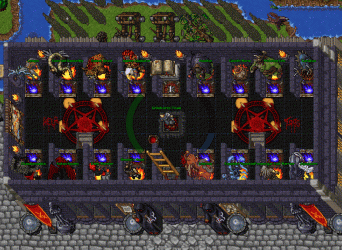 Grindcores is a heavily edited real map with an immense teleport system featuring over
+300 teleports
to huge hunting spawns, unique boss rooms, and fun quests.
#
Rare Items:
Every weapon or piece of equipment dropped by monsters and bosses has a chance to be uncommon, rare, epic and legendary with additional and unique stats.
#
Reworked Stamina:
The stamina system on Grindcores has been customized to be more rewarding and grindy. Everyone starts with the regular 150% base exp gain rate, but for every 42 hours of used stamina,
you receive a permanent +15% exp bonus.
#
Demonic Essence
System:
Gold coins have been losing value for some time now, but demonic essence has remained the most widely recognized form of currency on Grindcores. Most important NPC trade using essence.
Every slain monster and boss has a chance to drop essence.
Read more: https://grindcores.net/?essences
#
Skill and Experience Stages: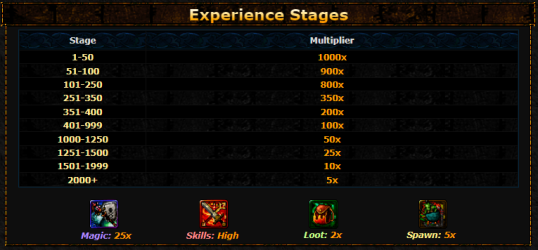 #
Helpful Features
:
A few systems have created to exclude the tedious and repetitive tasks from your gameplay experience to make sure you get the most enjoyment out of your time.
Autolooting systems: every dropped essence, item sellable to NPC's, rare items, and gold coins are looted to your autoloot bags, located in your store inbox.
You are able to sell all items an NPC has on their trade list with the keyword 'sell all'.
Quests are linear and simple to understand
A vast teleport system which drastically reduces time spent on travelling
Level rewards up to a maximum of level 1000 to get you started comfortably.
We would like to put an emphasis on bot and macro rules. We do not tolerate bot activity and all instances of botting will be punished, this includes cave botting and afk macro scripts.
However, macro scripts which improve quality of life are permitted, e.g. quick drag, hotkey macros.
Gallery:
@ Character Upgrades​
@ Blacksmith Dunkirr
@ Rash-ya Borthel
@ Hellgate passage
@ Quests for 100 and 500 lvl equipment
@ Pirate gold tasks
@ Inquisition Tower
Last edited: