Joined

Aug 6, 2020
Messages

10
Reaction score

16
Website:
benera.org
Discord:
Benera
Basic Informations:
​
Benera is a 8.0 real map server with custom and attractive additions to it. It is being made with a lot of passion and knowledge to make sure every players that visits it will be pleased in some or another way. The main focus of this project is to recreate structures and systems in a proper way and add some of them that are improving the quality of gameplay and world. This project has been working on in the background since late 2020. As of now it is finished in around 80% and test server is yet to come out.
Server features and systems:
​
Quests:
Starting from the beginning. Benera includes every quest that existed before 8.0 and on this version, including those which are still missing on "polished" servers for eg. Waterskin of Mead Quest, Mastermind Potion Quest etc. Each one of them works as it should and contains correct items, amount of gold, valuables, dialogues. Also added new quests that are going to be listed on the website later on.
Questlogs
: Fully completed, detailed and accurate questlogs including specific ranks and things that you can do after each mission (eg. access to new islands, particular doors, price changes – postman quest, ect.) and do after reaching each one of them.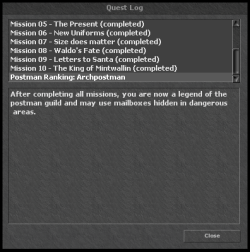 ​
Task system
: Added a cool feature in the form of a number of executable tasks, depending on how many you have done - it changes rank starting from the "beginner" and ending on the "legend". Appropriate highlighting depending on whether it is completed, in progress or waiting.
Items Library:
Containing every possible detail of an item(required level, magic level, range, weight, armor, attack, defense ect.) expanded by NPC buy/sell list and cities, every quest in which you can obtain it, exact amount and table of monsters that drops it.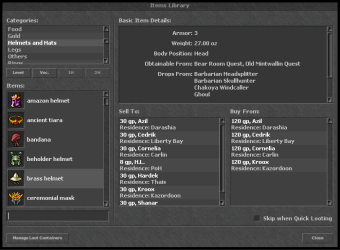 ​
Good example of the quest list and amount obtained would be a gold coin.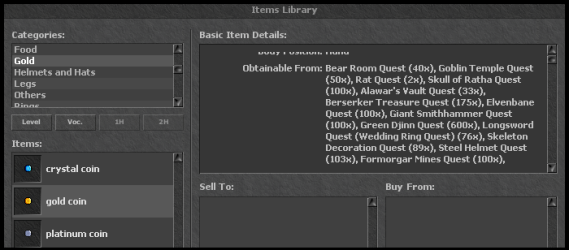 ​
Auto-loot System:
Speaking about Items library it would be a good idea to mention the auto-loot system because it is directly connected to it (you can choose items that should be looted or skipped from the monster)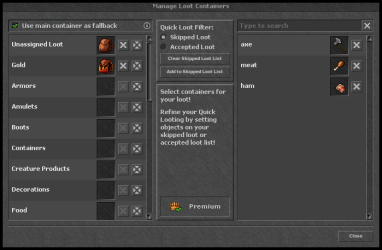 ​
Stackable mana/life fluids and runes:
What separates Benera is that the manafluids and lifefluids are not made as health potions or mana potions like on the others servers which have stackable option, to ensure it stays the right old-school way and gives proper feeling – the weight also have been changed in order to not affect the gameplay. Runes are stackable up to 100 even if u create them by yourself.
Market:
Newly designed UI with quotes of the day that will be changing at the top.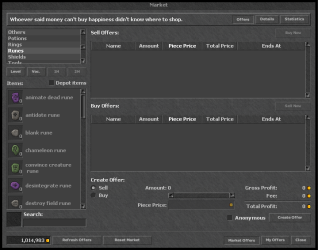 ​
Supply Stash
– In order to make your life easier when depositing the items.
Colorized Loot Channel:
You can change the color of looted items depending on the price which you can set in the options panel.
Achievements:
Benera has an unique system which includes over 100 "regular" achievements but you can also get
exclusive
rewards obtainable only via that method by doing certain things (completing quests, monster kills, items, bosses ect).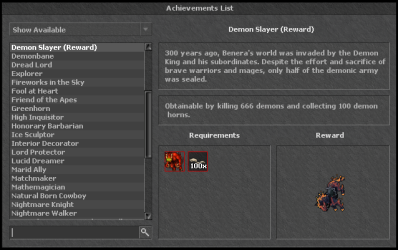 ​
Mounts
: It is a cool feature and an addition to tibia but it should be obtainable in a different way than just being forced to buy them via shop in order to gain an advantage. Benera will include couple of systems in which you will be able to get them.
Renting a mount: You will be able to get a mount simply by renting it from NPC (just like RL tibia does). The time that you will own it equals 24 hours and requires 500 gold in order to do that.
Achievements: The second way would be via the achievements system which was mentioned before. It will include unique mounts and you won't be able to buy them. There will be a tracker built inside the client and "claim reward" button.
Game Store: Obviously the easiest way but not necessary.
It is worth mentioning that there is an option for old-school players that hides all mounts on the screen.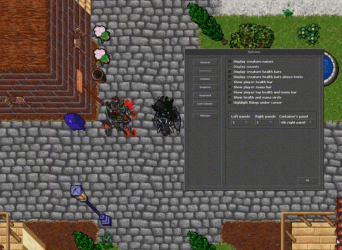 ​
Two-Factor Authentication(2FA)-
In order to make sure your account is safe, you will be able to secure it via 2FA Authentication system. (Works on website and client).
Cam system:
System that records players gameplay at the server side into file which can be opened later by player attached to client from that server.
Loot Analyzer:
Displays information on the total amount and type of looted items, as well as the gold value of looted items based on NPC price.
Attention to details:
Benera includes described names of signs, blackboards, graves, statues and books (most of them are from real 7.7 cipsoft files but the rest was filled up from higher versions and real tibia (Liberty Bay, Svargrond, Nargor ect)
New monsters, items and spawns:
To make sure you won't get bored playing the "same" map all the time there were added new spawns, items and monsters in order to diversify the gameplay.
Bosses
:
Daily Bosses- Benera have 4 daily bosses with unique and complex mechanics for 50,100,150 and 200 level which are yet to be tested out. "Four Horsemen of the Apocalypse". Videos will come as soon as they are done.
World Bosses- They might drop a loot exchangeable for unique cosmetics such as outfits/mounts.
Balance/Spells:
As one of the few OTserver on the Tibian scene, we have spell formulas 100% compatible with Tibia RL version 7.4-7.92.
All spells and runes, except for those introduced in 8.0 (exori, exori gran, exori hur, exori con), work as per v7.92.
Spells introduced in version 8.0 have undergone minor modifications in order to adapt them to the remaining balance (more important in dealing damage is the character level as it was on versions older than 8.0, but the skills are still very impactful).
Poison storm is now an instant spell which does damage and poisons the target.
Added Diamond Arrow for Paladin (level 150 or higher).
Burst arrow - in the case of magic professions work in accordance with version 7.92, in the case of paladin and knight - with version 8.0.
Few custom changes:
Shared experience bonus only if you have 4 different professions (20%).
Reduced stamina from 56h hours to 42h and changed the bonus from 50% (2 hours) to 20% (3 hours).
Added possibility to travel via ship without having money in backpack (it takes it from the bank) - only in PZ room.
Added blessing option to Henricus, but only after completing The Inquisition Quest (price have been changed to 75k instead of 50k), which means its 50% higher
No PZ on carpets
5% more experience for having a cast.
Please keep in mind that some of the things might be still in the development/changed even if the preview is shown here already. I'll inform about them, so if you want to stay updated, please make sure to visit
Discord
.
Last edited: