Joined

Aug 7, 2009
Messages

556
Solutions

2
Reaction score

393

Ascension Project (previously named Dreamsoul Project ) is a server that is oriented in the RPG elements of diferent games, unique ideas from some other sources and wonderful playstyle that i hope must of you will enjoy

Server is currently On beta phase! so everyone is invited to come and try it out. server has receive a huge rework from all the feedback from alpha testing. so we improved alot.!
In Ascension Project we make sure you have almost always something to do, we ensure that any type of player enjoys our game. so we added tons of mechanics and systems such as:

Crafting & gathering
this includes 4 basic crafting jobs and 4 gathering jobs
~Blacksmith~
~Alchemy~
~Enchanting~
~Cooking(under Development)~
~Mining~
~Herbalism~
~Rune Seeking~
~Fishing

Fame System & fame points
fame is our bread and butter unique currency, which any player can get from just doing content, you could just dedicate into crafting and get fame by crafting or gathering items, or you could be a Slayer that look up for fame monsters, complete dungeons, exploring the map to find treasures.
you will always get rewarded!

Quests & tasks
You can find tons of quests around the map, some will require to slain one hiding spy, or maybe just run around trying to catch some chickens with one broom like a crazy man, some will require for you to think more than that.
You can also get Killing tasks to obtain server rewards such as stat stones, armor or weapon random loot boxes based on your level.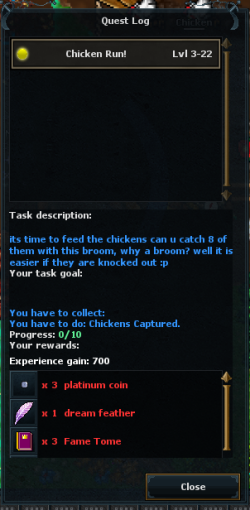 6 Unique Vocations
You can currently play with 6 unique vocations, they are very custom and we push every day to make the balance between all of them just perfect.
each of our vocations const with their own class passive.!

many and many more systems
Dungeons
upgrade & rarity items
perfect dual wielding
Unique attack types for each distance weapon
Mystic Pouches
Fame Monsters
Unique Pet system with pet levels and pet passive spells!
Custom Spells
Custom animations
New Sprites
Improved Client.
this list will never end but you can come and test our server!
This thread will be updated with every single patch!
Visit us at:
Discord:
Check out the Ascension Project community on Discord - hang out with 229 other members and enjoy free voice and text chat.
discord.gg
​
Last edited: