Joined

May 28, 2023
Messages

2
Reaction score

0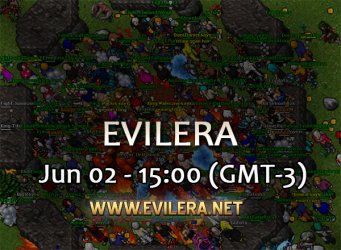 Official Website:
www.evilera.net
We would like to announce with pleasure and invite you to the newly upcoming server Evilera.net,
which will officially open on 02/06/2023 at 15:00 GMT-3.
Server Info:
Mid-Low Rate Global Server
Datacenter Vint Hill, (USA)
Antibot Client with 8.6 Protocol
New Spells from 12x Tibia Version with 8.6 exhaust
Global Full Map With addition of Warzones,
Gray Beach, Roshamuul, Rathleton, New Cities and Hunts.
More about server rates:
Server Info
New System on Gameplay:
New Crafting
New exclusive items can be created through ingredients,
and equipment collected in-game.
The blacksmith npc's will be in the cities,
but those who make the most powerful items will need a quest to gain access.
Task System Reworked
Many challenges await you, advance in tasks to acquire unique rewards,
unlock access to new cities and new items in the crafting system.
Market in-game
Forge
Advance equipment tiers to improve their attributes.
New stats
Fatal, Critical, Dodge, Life/Mana Leech, all available in a new combat stats window.
Global Depot
1 depot shared between all cities to improve gameplay.
New Bank System
Npc's accepting bank money.
Exp Shared
Shared experience in the pt, the bonus is informed in the skills window.
Reworked Soul System
To rune you don't need soul points,
souls will be acquired in bosses which can be used in the forge system,
among other functions.
We have bring also the better systems like:
Cast System - broadcast your gameplay and wars while chatting with others.
War System/Anti Entrosa - Battle on reserved maps with custom PvP options
AutoLoot - Configure a list of items to automatically loot like in global.
Hunt Analyzer - See your average exp and profit from your hunt.
Item colors - Items with value or rarity will be highlighted on loot messages and inventory.
Baazar - Buy and Sell characters through our system, will be released shortly after launch.
We have worked on new events like:
Relic Domination
- Exclusive Relic Domination event, more details to be announced soon.
Coliseum
- Consisting of several mini-events where players can compete for ranking and acquire tournament coins.
Bosses Invasions
- New custom Bosses with new exclusive items are waiting for you here,
current global Bosses are boosted in HP depending on the amount of players in the battle.
Boosted Creatures
- During each server save, 2 monsters will be drawn which will additionally increase XP and Loot by +20%.
and much, much more features that you will experiment playing the game.
We will build our community much more together.
We are working on the final adjustments and waiting for you all on the 02/06th at 15:00 pm,
create your account
now and get ready!​