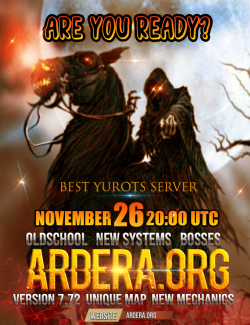 Launch Date: 26 November 20:00 UTC
[ Server Info ]
Location:
Canada
Version:
7.72 base updated with 8.0 features.
PVP Type:
PVP | Guild VS Guild PVP-E (Automatic)
Website
:
Latest News - Ardera.org (https://ardera.org)
Discord:
Here
[ Features & Gameplay ]
Unique YurOTS map detailed (Retro)
Daily Bosses with special rewards
Monsters drop rarity items!
Special autoloot system dynamic
Guild War System automatic PVP-Enforced with shields.
Auto-Sell system a dynamic method to sell all your loot
Quivers system for paladins
Stamina system with happy hour!
Task System Automatic (Multiple Tasks at same time) with party support.
Training System with stamina regeneration
You can conjure runes directly from your backpack
Own monster system with rarity levels
Boats without protection zone
OTClient highly optimized with own modules
Special Roulette system to win some store items
New events added to make the game more fun!
Client with EXP Analyzer, Frag System and Trainer Helper
New addon system upgraded to 8.0 you can farm items to unlock it.
New improved Walk System more smooth.
Vocations are analyzed every week
Daily Bosses
This and much more!
​
8 to 20 x20
21 to 30 x18
31 to 40 x16
41 to 50 x14
51 to 60 x12
61 to 70 x10
71 to 80 x8
81 to 90 x6
91 to 100 x4
101 to 120 x2
121+ in advance x1.5
​

[Daily Red Skull]: If your character have atleast 6 unjustified kills in one day.
[Automatic Ban]: If your character have 9 unjustified kills in one day.
The duration of the redskull status is 2 days.​
Last edited: