Joined

Dec 22, 2015
Messages

182
Reaction score

13
hi, good evening .. Does anyone know how to fix this problem?
I am following the guide as it says here and it throws me this error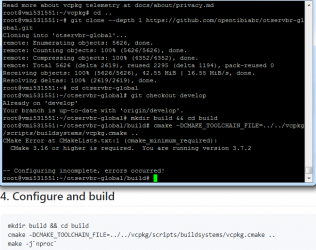 Lua:
[email protected]:~/otservbr-global/build# cmake -DCMAKE_TOOLCHAIN_FILE=../../vcpkg/scripts/buildsystems/vcpkg.cmake ..
CMake Error at CMakeLists.txt:1 (cmake_minimum_required):
  CMake 3.16 or higher is required.  You are running version 3.7.2


-- Configuring incomplete, errors occurred!
opentibiabr/otservbr-global (https://github.com/opentibiabr/otservbr-global/wiki/Compiling-on-Ubuntu-or-Debian-GNU-Linux)