Joined

Aug 25, 2009
Messages

8,823
Reaction score

640
Hi,
I am trying to connect to my Otserv-BR-Global server with Tibia 12 client with localhost.
The server is running fine.
Downloaded the client from here:
[OTServBR-Global] Cliente Tibia 12 Download de Cliente Tibia 12 que é utilizado para acessar o OTServBR-Global. Cliente ...
And opened bin folder and started 127.0.0.1_client.exe
The character list loads, but it gets stuck on connecting to the game world. I then get a never-ending loop of this box.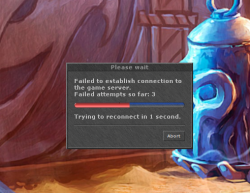 Any help is appreciated, thanks!
Adjusted some:
Znote AAC
Code:
$config['ServerEngine'] = 'TFS_10';



    $config['gameserver'] = array(

        'ip' => '127.0.0.1',

        'port' => 7172,

        'name' => 'ThreeTibia'
Otserv br
Code:
serverName = "ThreeTibia"

clientVersionMin = 1100

clientVersionMax = 1200



loginProtocolPort = 7171

gameProtocolPort = 7172

statusProtocolPort = 7171

mysqlHost = "127.0.0.1"
Last edited: