Joined

Dec 17, 2011
Messages

932
Solutions

23
Reaction score

444
Location
Hi! I use TFS 1.4 8.6 by nekiros and would like to request a simple football system.
First, I will set the pickupable flag off the football item so players won't be able to pick the ball in their inventories.
The football item is going to have a custom ID registered on items.otb and .xml
The idea is to have a frompos - topos area that limits the football field (

red

)
If the football item gets out of the frompos - to pos area , the ball will be automatically teleported to the middle of the field (

yellow

)
There's no need to set a limit to

blue

area, it only refers to space that is outside

red

area
The

grey

marked areas are going to have "nothing special" floor so balls won't be able to be thrown there
The

light blue

can be moveevent tiles that sends the football item to the middle with a different effect (ex. "goal!") (a good example as moveevent can be scarab tokens script from ankrahmun tombs)
There's also something important, players shouldn't be able to throw items inside

red

area
Player should only be able to move football item 1 SQM, not sure if function onMoveItem can be usefull here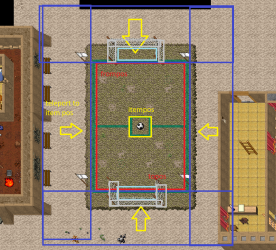 In advance, thanks
Regards!
Last edited: