Joined

Aug 3, 2009
Messages

639
Solutions

2
Reaction score

358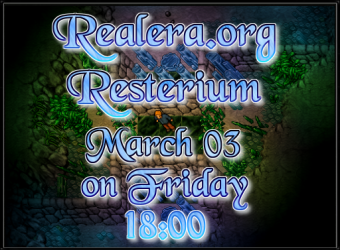 [Launch date]:
[03.03.2023, Friday 18:00 CET]
[Website]:
www.Realera.org
World: Resterium
[Fansites]:
Facebook
Discord
[World configuration]:
-Datacenter France, Gravelines (Europe),
-RPG Medium-rate 8.0 Realmap server,
-World type: PVP-Enforced,
-Custom Client,
-Advanced proxy system!
-Built-in cam system.
-Server save at 10:00 AM.
-
Wikipedia
-And many more...
[Experience stage]:
Game Features
[Game Configuration]:
Game Features
[Battle Configuration]:
-Frags to Red Skull: 3
-Frags to Ban: 6
-Decrease frag: 16h(Golden account), 24h without
-Unjustified player killing ban time: 3 days
-Final ban time: 7 days
Create character on new world Resterium 24h before start and recieve +2 days
Golden Account
!​