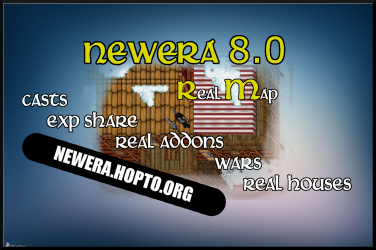 Code:
~~~ Welcome To Newera 24/7~~~~~~~~~~~~~~~~~
~~~~~~~~~~~~~~~~~~~~~~~~~~~~~~~~~~~~~~~~~~
Website & Ip:
newera.hopto.org
Create Account at:
Download client:
Casts:
/cast on
/cast off
Remember to open private chat channel for spectators
At the beggining we would like to say something about Server.
What is
NEWERA
?
This is LONG TERM project from 2018y based on tibia 8.0 with 8.0 graphics include real map, spawns etc. Everything we do is our hobby.
Map:
Full 8.0 map include poi, arena quests real addons and raids like ghazbaran.
Houses:
Buyable on website
DEDICATED SERVER
Hosted in France.
Informations:
Client:
8.0
Type:
PvP/RPG
Map:
Real Map
Loot:
4x
Skills:
20x
Magic:
10x
Bless:
/bless
(50,000 gp's)
Exp:
Stages
(1-8: 100x)
(9-30: 60x)
(31-100: 30x)
(101-150: 20x)
(151-xx: 4x)
------
Why you have to play on Newera?
We are offering LONG TERM great oldschool gameplay, our team will make everything to create best community. In the future we will create extra events (money, raids, lottery, etc).
Yours Community
Last edited: