Joined

Dec 17, 2011
Messages

934
Solutions

23
Reaction score

446
Location
Hi! I use Mehah OTC and need to add this feature as bot protection
Otclient can now load data/modules/init.lua from data.zip and modules.zip by setting the preprocessor ZIPENCRYPTION. The zips must be encrypted with ZipCrypto, not AES. Default password m_zipPasswo...
github.com
I already added the commits, then open the compiled .exe with a .zip file called "data" that has data folder and modules folder.
At the first try, the client opened with the .zip. But when I encrypted it with WinZip it doesn't loaded anymore because it couldn't find the folders.
I matched the password from here
resourcemanager.h
C++:
std::string m_zipPassword = "12345678";
with the .zip password but didnt working. Another thought is that I was expecting that the .zip was going to be generated automaticatly once I open the .exe, but realized that it didn't work that way. How should I set-up this to make it work?
Followed the instructions
Code:
*    Install 7-zip
*    Copy init.lua into data
*    Go into data
*    Select all, right click, 7-zip, Add to archive...
*    Set password and ZipCrypto as encryption method
*    Repeat for modules directory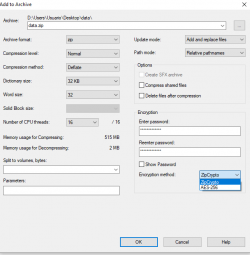 Some thread investigation
Hello OTlanders, Is there any good way of encrypting OTClient files and still be able to load the necessary files such as Data/Modules? I've tried to use a "packer" but the client could not load the necessary files in the encrypted Data/Modules folders nor the init. Would be greatfull for...

otland.net
Regards!
Last edited: