Mega Noob&LOL 2012
Senator
Premium User
Got old Windows datapack and monsters do not load on Linux? [on Linux
achad.xml
!=
Achad.xml
]
Downloaded map with
spawns.xml
, but some monster are not in your datapack?
Find all bugged names and fixes for them.
Code suggests existing file path with same lowercase file path as in
monsters.xml
. If there is none, it searches in all folders for file with same lowercase name.
Online version:
OTS.ME - Monsters & Spawn files checker (https://ots.me/monsters-fixer/)
It generates reports like this: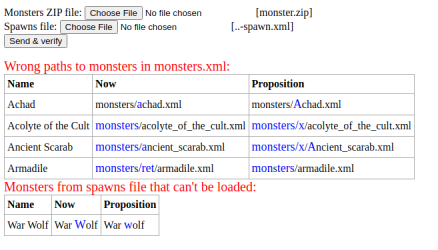 Sorry for ugly variables and 20
for
/
if
. I made it few years ago to fix one datapack. I did not plan to release it, but there are still people that try to mix datapacks and get million errors on server startup.
PHP code:
PHP:
<?php

function colorChanges($orginalString, $changedString)
{
    $original = str_split($orginalString);
    $changed = str_split($changedString);
    $offset = 1;
    $ret = '';
    while($offset <= count($original) && $offset <= count($changed)) {
        $o = $original[count($original)-$offset];
        $c = $changed[count($changed)-$offset];
        if($o == $c)
            $ret = $o . $ret;
        else
            $ret = '<span class="diff">' . $c . '</span>' . $ret;

        $offset++;
    }
    if (count($original) < count($changed)) {
        while($offset <= count($changed)) {
            $c = $changed[count($changed)-$offset];
            $ret = '<span class="diff">' . $c . '</span>' . $ret;
            
            $offset++;
        }
    }

    return $ret;
}

$monstersErrorsList = array();
$spawnsErrorsList = array();

if(isset($_FILES['monsters_file']['tmp_name']))
{
    try {
        $monstersPaths = array();
        $monstersZIP = new ZipArchive();
        if($monstersZIP->open($_FILES['monsters_file']['tmp_name']))
        {
            // create list of .xml file paths in .zip
            for($i = 0; $i < $monstersZIP->numFiles; $i++) {
                $monsterFilePath = $monstersZIP->getNameIndex($i);
                if(substr($monsterFilePath, -4, 4) == '.xml'){
                    $monstersPaths[$monsterFilePath] = $monsterFilePath;    
                }
            }

            // remove 'monster/' from file paths
            $removeMonsterDir = true;
            foreach($monstersPaths as $monsterPath)
            {
                if(substr($monsterPath, 0, 8) != 'monster/') {
                    $removeMonsterDir = false;
                    break;
                }
            }
            if($removeMonsterDir)
            {
                $monstersFilePath = 'monster/monsters.xml';
                foreach($monstersPaths as $monsterPath)
                {
                    unset($monstersPaths[$monsterPath]);
                    $newMonsterPath = substr($monsterPath, 8, strlen($monsterPath) -8);
                    $monstersPaths[$newMonsterPath] = $newMonsterPath;
                }
            } else {
                $monstersFilePath = 'monsters.xml';
            }

            ksort($monstersPaths);

            $monstersPathsLowercase = [];
            $monstersFilesLowercase = [];
            foreach($monstersPaths as $value) {
                $lowercasePath = strtolower($value);
                $lowercaseFileName = array_reverse(explode('/', str_replace('\\', '/', strtolower($value))))[0];

                $monstersPathsLowercase[$lowercasePath] = [
                    'path' => $value,
                    'lowercasePath' => $lowercasePath,
                    'lowercaseFileName' => $lowercaseFileName,
                ];

                $monstersFilesLowercase[$lowercaseFileName] = [
                    'path' => $value,
                    'lowercasePath' => $lowercasePath,
                    'lowercaseFileName' => $lowercaseFileName,
                ];
            }
        }
        else {
            throw new RuntimeException('Failed to open monsters .zip file');
        }

        $monstersXMLfileContent = $monstersZIP->getFromName($monstersFilePath);
        $monstersXML = new DOMDocument();
        $monstersXML->loadXML($monstersXMLfileContent);
        $monstersList = array();
        $monstersElements = $monstersXML->getElementsByTagName('monster');
        for($m = 0; $m < $monstersElements->length; $m++)
        {
            if($monstersElements->item($m)->hasAttributes() && $monstersElements->item($m)->attributes->getNamedItem('name') && $monstersElements->item($m)->attributes->getNamedItem('file'))
                $monstersList[$monstersElements->item($m)->attributes->getNamedItem('name')->nodeValue] = $monstersElements->item($m)->attributes->getNamedItem('file')->nodeValue;
        }
        $i = 0;
        $monsterPathId = array_values($monstersPaths);
        foreach($monstersList as $name => $file)
        {
            if(!isset($monstersPaths[$file]))
            {
                $fileName = array_reverse(explode('/', str_replace('\\', '/', strtolower($file))))[0];
                if(isset($monstersPathsLowercase[strtolower($file)])) { // same lowercase path
                    $result = [
                        'name' => $name,
                        'now' => colorChanges($monstersPathsLowercase[strtolower($file)]['path'], $file),
                        'proposition' => colorChanges($file, $monstersPathsLowercase[strtolower($file)]['path'])
                    ];
                } elseif(isset($monstersFilesLowercase[$fileName])) { // same lowercase file name
                    $result = [
                        'name' => $name,
                        'now' => colorChanges($monstersFilesLowercase[$fileName]['path'], $file),
                        'proposition' => colorChanges($file, $monstersFilesLowercase[$fileName]['path'])
                    ];
                } else {
                    $result = [
                        'name' => $name,
                        'now' => $file,
                        'proposition' => 'NONE :('
                    ];
                }

                $monstersErrorsList[] = $result;
            }
            $i++;
        }

        if(!empty($_FILES['spawns_file']['tmp_name']))
        {
            $spawnsXML = new DOMDocument();
            $spawnsXML->load($_FILES['spawns_file']['tmp_name']);
            $spawnMonstersList = array();
            $spawnsMonsters = $spawnsXML->getElementsByTagName('monster');
            for($s = 0; $s < $spawnsMonsters->length; $s++) {
                if($spawnsMonsters->item($s)->hasAttributes() && $spawnsMonsters->item($s)->attributes->getNamedItem('name')) {
                    $monsterName = $spawnsMonsters->item($s)->attributes->getNamedItem('name')->nodeValue;
                    $spawnMonstersList[] = $monsterName;
                }
            }

            foreach($spawnMonstersList as $spawnMonsterName)
                if(!isset($monstersList[$spawnMonsterName])) {
                    $result = [
                        'name' => $name,
                        'now' => $name,
                        'proposition' => 'NONE :('
                    ];
                    // try to find monster in monster.xml with same lowercase name
                    foreach($monstersList as $name => $file) {
                        if (strtolower($name) == strtolower($spawnMonsterName)) {
                            $result = [
                                'name' => $name,
                                'now' => colorChanges($spawnMonsterName, $name),
                                'proposition' => colorChanges($name, $spawnMonsterName)
                            ];
                            break;
                        }
                            
                    }

                    $spawnsErrorsList[] = $result;
                }
        }
    } catch(Exception $e) {
        echo '<div style="font-size: 20px;color: red">Errors while loading files: ' . $e->getMessage() . '</div>';
    } catch(ValueError $e) {
        echo '<div style="font-size: 20px;color: red">Errors while loading ZIP archive. Probably you uploaded wrong file.</div>';
    }
}

echo '<html><head><title>OTS.ME - Monsters & Spawn files checker</title></head><body>';
echo '<style>
table {
  text-align: left;
  border-collapse: collapse;
}
table td, table th {
  border: 1px solid #AAAAAA;
  padding: 5px 4px;
  font-size: 16px;
}
.diff {
    font-size: 18px;
    color: blue;
}
</style>';
echo '<h3>ZIP your <i>data/monster</i> directory and upload to check <i>monster.xml</i> and file names compatibility</h3>';
echo '<h3>You can also upload your <i>data/world/spawns.xml</i> to check, if all monsters from map are in <i>monster.xml</i></h3>';
echo '<form action="index.php" method="post" enctype="multipart/form-data"> 
Monsters ZIP file: <input type="file" name="monsters_file" /> [monster.zip]<br />
Spawns file: <input type="file" name="spawns_file" /> [..-spawn.xml]<br />
<input type="submit" value="Send & verify" /> 
</form>';

echo '<div style="font-size: 20px;color: red">Wrong paths to monsters in monsters.xml:</div>';
echo '<table style="font-size:16px"><tr><th>Name</th><th>Now</th><th>Proposition</th></tr>';
foreach($monstersErrorsList as $errorData) {
    echo '<tr><td>' . $errorData['name'] . '</td><td>' . $errorData['now'] . '</td><td>' . $errorData['proposition'] . '</td></tr>';
}
echo '</table>';

echo '<div style="font-size: 20px;color: red">Monsters from spawns file that can\'t be loaded:</div>';
echo '<table><tr><th>Name</th><th>Now</th><th>Proposition</th></tr>';
foreach($spawnsErrorsList as $errorData) {
    echo '<tr><td>' . $errorData['name'] . '</td><td>' . $errorData['now'] . '</td><td>' . $errorData['proposition'] . '</td></tr>';
echo '</table>';
}[/php]