IP: thora.pl
Port: 7171
Client: Tibia 8.00
Uptime: 24/7
Hosted in: Poland, on a dedicated server with 100 mbits Internet connection.
Website: http://thora.pl
Thora Oldschool
Welcome to Thora Oldschool. We invite you to have fun and participate in the friendly atmosphere of the new server that is THORA, you can not miss it. Have fun!
Exp: Stages
Magic level x4
Skills x8
Loot rate x2
Stages

levels 1-10- x5
levels 11-20 - x4,5
levels 21-30 - x4
levels 31-40 - x3,5
levels 41-50 - x3
levels 51-60 - x2,5
levels 61+ - x2

Houses

1 SQM = 1000 GP
Weekly payment

PVP System

Red Skull - 5 frags
Ban - 10 frags
each 8 hours you lose 1 frag

Task System

Task system.
After you receive the message "Congratulations! you killed [ 100/100 Trolls ] and finished the task." you go to TaskNpc who is located north of depot. To grab your reward just tell him "task".
Professions:

Sorcerer/Druid:
-Free Light/Light Healing/Create Blank Rune/Light Magic Missile Rune spells
-10 Wands/Rods
-Conjure Runes 2x
-5hp/6s, 4 mana/3s
-Attackspeed - 2,0s
Paladin:
-Free Light/Light Healing/Create Blank Rune/Create Spear spells
-Conjure Ammunition 2x
-5hp/4s, 3 mana/4s
-Attackspeed - 1,6s
Knight:
-Free Light/Ligh healing spells
-Exori - 120 mana
-Attackspeed - 1,5s
Spell changes:
Fireball - 5 lvl - 80 mana - 6x - 600 gold
Heavy Magic Missile rune - 13 lvl - 120 mana - 10x - 1500 gold
Sudden Death rune - 25 lvl - 400 mana - 2x - 3000 gold
Explosion rune - 15 lvl - 270 mana - 6x - 1800 gold
Ultimate Healing rune - 16 lvl - 200 mana - 2x - 1500 gold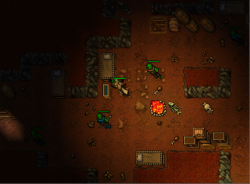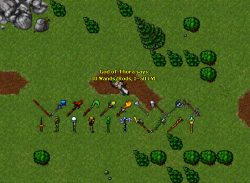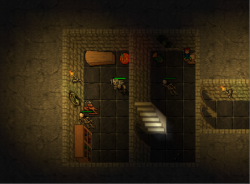 Additional information:
-Task system
-Fast resp ~10-15s (Monsters appear next to the player after 5 seconds of teleport pulsing as in rl Tibia)