Hello,
I use MyACC by Slawkens and GesiorShop, a system modified by Slawkens - all downloaded from
MyAAC Official Website – Official site of the MyAAC. The best AAC in the world! (http://my-aac.org/)
in the latest version.
After configuring the DotPay function,
PHP:
/**
 * dotpay.pl configuration
 */
$config['dotpay'] = array(
    'enabled' => true,
    'id' => 99999,                            # numer ID zarejestrowanego klienta 
    'contact_email' => '[email protected]',
    'options' => array(
        array( # SMS 3,66 zł
            'code' => "SLASKI",                # identyfikator uslug SMS
            'type' => "sms",                # typ konta: C1 - 8 znakowy kod bezobslugowy, sms - dla sprawdzania SMSow
            'points' => 25,                    # ile premium punktow daje dany sms
            'sms_number' => 73068,            # numer na jaki nalezy wyslac kod
            'sms_text' => "AP.SLASKI",        # tresc jaka ma byc w SMSie
            'cost' => "3.66 zł brutto"        # cena za wyslanie sms
        ),
        array( # Przelew 15zł
            'code' => "100POINTS",
            'type' => "C1",
            'points' => 100,
            'cost' => "15 zł brutto"
        )
    )
);
(Of course I change my customer number for mine. &
Do not look at the SMS configuration, it is default and I do not care - it will be deleted.)
unfortunately it does not work, after clicking a link a message is displayed on the DotPay website: "An error occured Payments are temporarily impossible. Please try again later. If you need additional information, please contact the xxx dealer directly.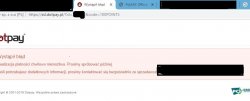 At DotPay, I have set up a "payment link" but I'm not sure if it's correct.
In dotpay logs he receives information: Warning Payment API error. Currency code is required for Chk code
Can anyone help in this regard?
What should I check?
Haskys
@slawkens
@Gesior.pl
will you help me?