Joined

Apr 26, 2019
Messages

8
Best answers

0
Reaction score

5
I'm posting because I have no time to improve this project.
I will continue updating. I ask everyone not only to use it, but help with this project. Help improve it.
I am using the current version of OTClient in Github (0.6.6).
Last Commit: 2,656
Changelog from Project:
Lua:
////////////////////////////////
////////// CHANGELOG ///////////
////////////////////////////////

#v1.0.0
- Remove 'sound' from sources and datapack

#v1.0.1
- Remove 'select language' and set english only

#v1.0.2
- Add Changelog.TXT in sources
- Add imagens from tibia (incomplete)

#v1.0.3
- Edit Styles otui

#v1.0.4
- Add PlayerName in Topside after login and remove PlayerName after logout

#v1.0.5
- Rev modules/gamelib
- Rev modules/corelib (incomplete)
- Rev modules/client
- Rev modules/client_background
- Change version in main.cpp

#v1.0.6
- Rev modules/client_entergame
- Remove modules/client_locates
- Remove modules/client_modulemanager
- Rev modules/cient_options
- Update all icon status in data/images/states
- Correction from icon status
- Rev various archives in modules (incomplete)

#v1.0.7
- Rev modules to elimine all features from otclient
- Modules based on Cipsoft Client
- UI base on Cipsoft Client

#v1.0.8
- Correction from ShowPing and more features
Inssues:
Lua:
- When I leave the 'follow' option enabled. When attacking a monster and moving the character through the keyboard, the character freezes.

- When diagonally walking, it's how the FPS was dropping.

- When using hotkey with potion, an error appears in the terminal.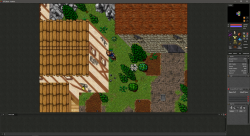 Project based on 8.0 (work for all versions supported by otclient)

Change IP or RSA_KEY from

SERV_IP

and

OTSERV_RSA

in:

modules/gamelib/const.lua

Change VERSION from

function g_game.getSupportedClients()

in:

Modules/gamelib/game.lua

Change VERSION from

clientVersion =

in:

Modules/client_entergame/entergame.lua

Change VERSION from

EnterGame.setUniqueServer

in:

Modules/client_entergame/entergame.otmod PLEASE! Report and help with this project. Download

(complete with sources and compiled in GL)

: MEGA (https://mega.nz/#!xbBiEAJT!z3vepuqg0dJRB7LvKMUHSF5et2d898sDJ_zBkQ39nZk)