Hi, if its possible I want to request a script =) for Tfs 1.3 revscriptsys..
This picture should explain it: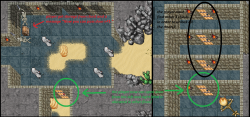 The main idea is
1. A player that use the chest will obtain permanent access to 2 doors ubicated in different places.
2. If player doesnt have the storage, the script will send him a message saying him that is not allowed to pass.
3. (extra) If is possible, recieve a reward aswell for each chest opened.
Thanks in advance, hope someone can do this request =P