Joined

Dec 17, 2011
Messages

871
Solutions

19
Reaction score

409
Location
Hi! I successfully compiled mehah OTClient
mehah/otclient (https://github.com/mehah/otclient)
, and tested it on localhost. All is running excelent, I can't say nothing, it is just amazing. But I have too much FPS rate, I run it on 3420 FPS and
my PC start making a strange noise
, that worries me. My question is,
where in the sources I can set a limit FPS, when I set it to MAX
, and what value you guys consider is good to set (example: 400FPS)? the previous value to max (200FPS) seems good to a fluid gameplay but is too slow after seeing the 3k FPS. Attached an image to explain.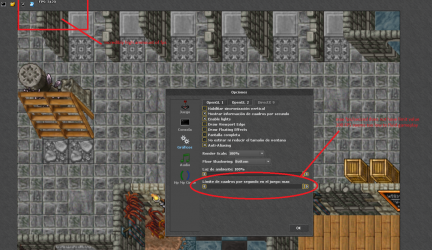 Regards!
Post automatically merged:
#Fixed
Solution was modules/client_options/options.lua
Code:
    local text, v = value, value
    if value <= 0 or value >= 201 then text = 'max' v = 400 end
    graphicsPanel:getChildById('backgroundFrameRateLabel'):setText(tr('Game framerate limit: %s', text))
    g_app.setBackgroundPaneMaxFps(v)
Anyways i'm still intrested in where FPS are located in sources and which ammount is recommended. Regards!
Test on 250 FPS seems to force GPU (rtx 1060) too much, at the moment I set max to 230 FPS.

Last edited: