Joined

Nov 9, 2012
Messages

191
Best answers

0
Reaction score

32
Location
i use TFS 1.2, protocol 10.98.
i need to add new sprites to my clinet via
ObjectBuilder [10.98]
and
Item Editor (10.98)
i have the itemeditor 10.98
but the only ObjectBuilder ive found is for up to 10.56.
is there ObjectBuilder fit for 10.98?
or is someone know how to compile one?
i'm a mapper not programer nor scripter.
id do it myself but its WAY out of my leauge.
(all i know each sprite need to be 32by32 and pink background)
i need it to add new items for my crafting system which thanks to Ramirow & Zbizu & CODEX NG' is finished with in only 2 months.
this system is one of the core system for my server, i really need to be able to add my own sprites..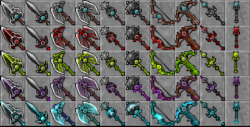 (concept "art" green is need to be added.)
Links:
ObjectBuild is a program used to edit dat/spr files. ObjectBuilder 0.4.1 Supported versions: 10.32, 10.31, 10.30 Help: Files info. Select object type. Object view. Go to first object. Go to previous object. Object id. To select a id, insert the value and press the enter key. Go to...

otland.net
For those who are looking for it, here it is: Source: https://github.com/ottools/ItemEditor Download: http://www.mediafire.com/file/24quy1fo4r9slzq/itemeditor.rar Scan: http://ScanURL.net/?u=www.mediafire.com/file/24quy1fo4r9slzq/itemeditor.rar#results Note: I've compiled it on Windows 8.1...

otland.net
if there's more info you need let me know.
Big thanks for those who help or try to help..
i will make sure to credit your names when my server go live.
maybe even few free credits in the store for cosmetics
(and if you need map for some reason, feel free hit me up.)