As you can see, I have a spell that hits random targets in an area, but it ignores walls and other objects that should block a spell.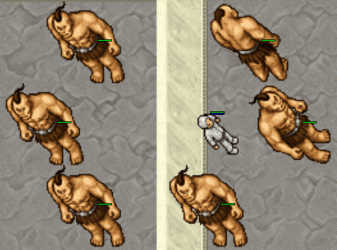 Can anyone help with a solution for this?
the code uses Game.getSpectators to find the targets in the area
Here is the code of the spell, if anyone want to check it.
Lua:
local config = {targetNumber = 8}

local combat = Combat()
combat:setParameter(COMBAT_PARAM_TYPE, COMBAT_PHYSICALDAMAGE)
combat:setParameter(COMBAT_PARAM_DISTANCEEFFECT, 97)

function onGetFormulaValues(player, skill, attack, factor)
    local min = (player:getLevel() / 5) + (skill * attack * 0.04) + 11
    local max = (player:getLevel() / 5) + (skill * attack * 0.08) + 21
    return -min, -max
end 

combat:setCallback(CALLBACK_PARAM_SKILLVALUE, "onGetFormulaValues")




local spell = Spell("instant")
function spell.onCastSpell(creature, variant)

    local spectators = Game.getSpectators(creature:getPosition(), false, false, 5, 5, 5, 5)
    local count = 0
    local rep = 0
    local targets = {}
    local playerPos = creature:getPosition()

    while count <= config.targetNumber do
        rep = rep +1
        local target = math.random(1, #spectators)
        local pos = spectators[target]:getPosition()
        local var = positionToVariant(pos)
        if var and not table.contains(targets, target) and spectators[target] ~= creature then
            targets[#targets +1] = target
            count = count+1         
            combat:execute(creature, var)
            var = nil 
        end     
        if rep > 70 then
            count = config.targetNumber+1
        end
    end
    r
Attachments