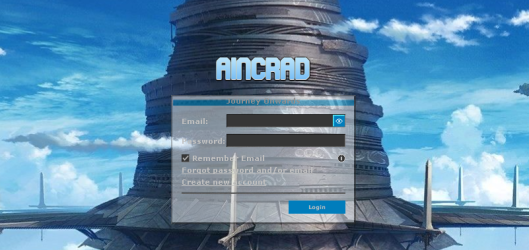 Sword Art Online - SAOT with Tibia styled graphics.
The server is based of the anime series Sword Art Online but in Tibia style and very much the same graphics.
Those the server itself has some unique systems

Upgrade/Gamble system when looting monsters/bosses.
Items will roll common, rare, epic or legendary. Upon that its gonna make your character extremely powerful or weak depending of how you choose to combine the stats you obtain.

You need to beat EACH floor boss to advance to the next floor and with new creatures.

Remember that in SAO the floor is based of how dangerous it is for the player/s and its not really a solo game but one can still beat the game solo if you take good care of yourself.
You can read alot of the information we provide in the discord.
Latest News - Aincrad (http://tibia.smoker.gg)
- for Registration and Client.
Check out the The Aincrad community on Discord - hang out with 48 other members and enjoy free voice and text chat.
discord.gg

Features
✅ Random rarity roll items (

common

,

rare

,

epic

and

legendary

) • Common adds 1 extra stat only • Rare can add 2 stats, doesn't always roll 2 tho • Epic always adds 2 stats • Legendary adds 3 attributes (3 is also max) Upgrade/Gamble system upon looting monsters/bosses

✅ Floors accessable depending on if you killed the current floor boss to advance to the next floor.

✅ Custom loots
✅ Custom spells/effects

✅ Upgrade crystals

✅ NO P2W (strictly against pay-to-win) - Cosmetic shop will be added later

✅

Dual-wielding for Elite Knights
✅ Over 100+ special stats for different equipment/items to play around with • Attack speed, elemental damages, skill boost, double hit, multishoot, stun durations, elemental defense
• Aoe damage, passive hp regen, passive mana regen, hp regen on kill, mana regen on kill, spell-damage
• Bonus damage, mass-healing triggers, Immortal chance upon dying, multi-slash.. and many more!
Last edited: