Joined

Aug 20, 2011
Messages

153
Reaction score

8
Hello guys. I am trying to compile my tfs 1.3 with Visual 2019(same with 2017 version) and it gives me the following error:

I found this in database.h
And I have the files on my C drive. If I compile another 1.3 on a different location it works and I dont get the error. If use the same path as the other 1.3 tf it still gives me this error. Should I remove '' #include <mysql/mysql.h> in database.h ?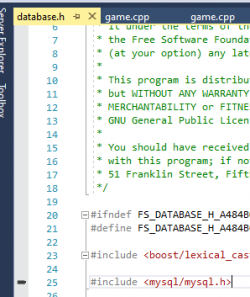 Or can I somehow show my Visual studio where the file is. I mean I have it here:

How can I solve this issue?