Whatsup! As some might know, I mean its not a secret. I have started up a new project from scratch based of the The Forgotten Server 1.3 pack.
In this thread I will mainly ask the community on Otland about Ideas, thoughts, perspectives on my project.
To clarify what my wishes of this server to have or be in short:
-
Advanced vocations
(All normal start classes will be there, when reaching a specific level a second class will appear by choice.)
-
Pet system
(similar to summons, they have their own attack, levels. They also "evolve" on several levels with the help of evolve-stones. Pets will be tradeable between players)
-
Advanced fishing
(Fishing will be available by fishing real monsters within the water, fish-type monsters will have their specific level and their difficult set by that.
-
Quest zones
(Quests will divided into individual zones, where finishing a zone will reward you with a boost to your character. All quests will have a daily reward and a standard quest reward.)
-
Outfits, addons & mounts
(All these will be divided into secrets, there will be a "outfit adventure" island as in GameFate where you gain majority of your outfits however.)
-
Unique spells
(Main part of tibia's classic spells will be kept, such as: utani hur, exura, exiva etc. However mainly attack damage spells will contain custom/unique spells.)
-
Rates
(Experience rates will be set "kind-of-low?", botting will be available but cavebot will not. The average level after a couple of days grinding will be around 300~)
-
Dungeons
(Making dungeons & fullfilling tasks aswell will be the main thing to progress your character further.)
To start out with one thing I feel stuck on is the basic construction of a quest room, I have tried several different building types but I cant for the world get something that is playable and satisfying to watch. Below you can see the latest edition.
This edition has no details, walking on the tile with green arrows will take you up a floor and red, will take you down a floor. Take into consideration, yet again that this has no details added and unfinished sprites even. The main focus is the building itself, how its constructed. I'm not sure on how to continue with it or if i even should continue with it, if you have any suggestions about literally anything I've said in this post, or maybe you got some inspiration etc don't hestitate.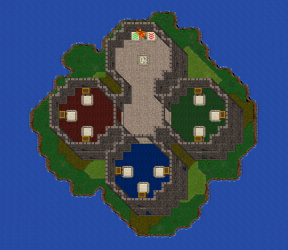 Kind regards,
Mjmackan/wave and smile