Joined

Jul 25, 2017
Messages

163
Solutions

2
Reaction score

7
Hi everyone, recently I got some extra time and I wanted to spend this free time on the TFS, I saw that it is on version 1.4.2, so I cloned the repo and built the project, created the database using the schema provided on the tfs folder, but I'm having this issue with Gesior, and MyAcc where none of them is able to find the
config.lua
file on my tfs folder, I'm using linux (arch linux) and as far as I understand I'm using the correct path:
/home/legion/Documents/OT/forgottenserver-1.4.2/
I also tried, using a different name without -, or any strange character without success, also tried to move the server to the home to see if maybe it was caused by permissions or something like that:
/home/legion/tfsserver/
but I'm having the same issue on both of them and I'm sure the config file is there and I'm guessing is allright, otherwise the server should not start, unless that database manager error could be causing that issue with the web page.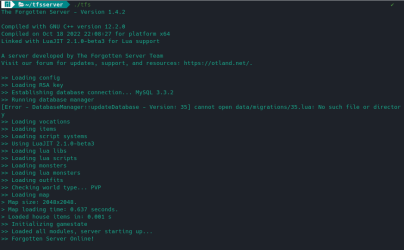 Reading different topics on the forum, I found someone saying that I required to remove the comments from the file which I did, but didn't work. Also, I tried including or not the / at the end and at the beginning of the path without success.
Maybe I'm doing something wrong or is there something that I missed? or can anyone suggest me another acc compatible with tfs 1.4.2 in case that could be the issue or how to use an account manager to create an admin account and be able to log into the OT and start scripting.
Thanks in advance!!!