Joined

Aug 25, 2009
Messages

8,945
Solutions

1
Reaction score

743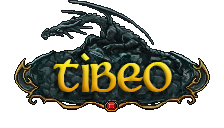 Welcome to Tibeo
Stable host in London, UK.
8.6 server, global
IP:
Tibeo.net
Port:
7171
Website
:
Latest News - Tibeo (https://tibeo.net)
Client:
8.60
Features
Uptime 24/7
Trainers
Open PvP
No pay to win store
Botting allowed
Guild war system
Yasir, Djinns and Rashid located at Thais Library.
Rates & Info
Server info - Tibeo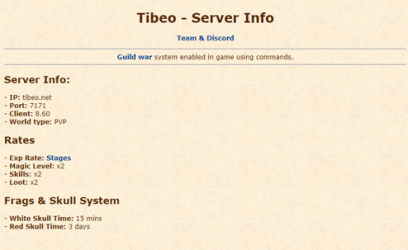 Experience Stages - Tibeo

Discord
Join the Tibeo Discord Server! (https://discord.gg/cvkm9jQRFx)
Further info
Tibeo updates will be voted in by the community. Polls will be added to the website for the community to vote what they would like implemented from future Tibia updates.
Bug Bounty
Found a bug? We'll provide you with in game shop points. Report it to us on Discord and claim your prize!
Advertisements
We're advertising on Facebook OT pages, Otservlist (paid) and Discords. We're trying to reach out to some Guild War teams from 8.6 days but if you know anyone of a team with 10+ players, we'll be happy to provide them with some points to help them start!