Joined

Mar 10, 2019
Messages

31
Reaction score

17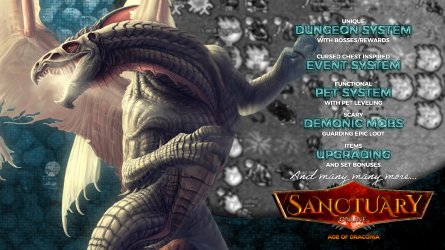 Sanctuary Online is created and maintained by a group of friends / Tibia enthusiasts who felt that the updates to the main game and the private servers that exist really just don't properly capture the desires of the community. We are seeking to change that and instead focus on player driven updates / additions with emphasis on enjoyment and just having fun. This will be a place where your suggestions are observed and if popular will be actually implemented into game. Our experience brings over 15 years of knowledge to the table that is utilized to create a unique gem in the private server community with features to appeal to any player, no matter your preferences. Here's a bit more info on what to expect from us:
We are a heavily developed 7.4 old school mechanics server with expanded features & lots of completely new content. In addition to classic places we will have updates to old areas, completely new area additions, classic tibia monsters & new customs, many more bosses and raids, mysterious original quests to figure out + rewards to gain and also the following features:
Unique dungeon queue system with bosses/rewards
Cursed chest inspired event system
Diablo inspired waypoint learn and teleport system
Ancient shrines with brief bonuses on activation
Equipment upgrade features as well as equipment set bonuses
Multiple target weapon capabilities
Live casting / cam recording system
Functional pet system with pet leveling
Upgraded buy / sell offer marketplace
Item tooltip with mouse over graphical user interface
'Demonic' mob system, where most every creature has the potential to spawn a boss-type mob at random intervals
Custom item upgrade system, meaning certain items will have the chance to drop with upgraded capabilities based on rarity
In-game character lookup, character creation, and highscores features
Many automatic events and custom created events never seen before
Mining / Blacksmithing skills with associated quest lines
Four planned different expansion 'eras' to come the year of launch:
Sanctuary: Draconia
Sanctuary: Demona
Sanctuary: Goroma
Sanctuary: Pandemonia (new area)
The expansions add on to our main storyline and include revamping some severely underutilized places on the map to give fresh experiences in classic places. Our main quest will take you on a journey through these beloved areas and will show you a world that has been hidden to you but now slowly enters the light. We begin on Draconia known as the Dragon's cemetery though the reasons behind this have never been real clear.. An Old Dragonlord remains abandoned here prisoner not only to his isolation but tortured by his memories as well.. What caused so much pain to the Dragon race? As we dig deeper into the mysteries of Draconia we will discover dark forces growing beneath the island and all over tibia that even the Dragons have come to fear!
BETA LAUNCH DATE SET: OCTOBER 24, 2020 END: NOVEMBER 14, 2020 (3 weeks)
Special prizes will be awarded to beta testers that will be forever unobtainable after the beta period ends. Cash prizes will also be included (will elaborate soon on the contests!)
We hope you will join us for this first step in our journey towards full launch. Since Halloween will fall during beta we have some unique events planned to show you all what the Sanctuary team is truly capable of! Please note: the website is under construction and incomplete at the time of this posting (only a basic AAC layout at the moment with information we have not configured.) We will have the new website ready to go by the beta date until then please just use the server discord link in my signature for latest news and updates!
Sincerely,
Sanctuary Online Staff Team
Last edited: