I whore myself out for likes
Support Team
Joined

Nov 17, 2010
Messages

4,741
Solutions

262
Reaction score

2,828
Okay I thought this was going to be easy but.. holy
I'm following this tutorial, but literally stuck on the second step
A free and open-source MMORPG server emulator written in C++ - otland/forgottenserver
github.com
Download/install
Visual Studio 2019 Community
(compiler)
After downloading.. during setup there's like 17 different workloads and like 100+ individual components.
What am I supposed to install? Because nothing says 'compiler'..
I'd install them all.. but I don't have that much diskspace. lmao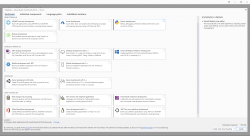 Post automatically merged:
Well, looking at other people posting issues, I think I only need to install 'Desktop development with C++'
Here's hoping it works. xD
Post automatically merged:
Alright, so I think it worked properly?
Some additional things I did..
I downloaded the source code into a different folder instead of into the vcpkg directory
I couldn't get the libraries installed on step 4, got some weird error.
Had to add ./ in front of the rest of the copy-paste.
Seems to have worked?
and when trying to compile.. I was missing some sort of lua.hpp file..
Basically had to go through a rabbit hole to fix this lmao.
Idk what the issue was..
But I went
Project -> Properties -> C/C++ -> General -> (first line, Additional Include Directories) Clicked on the box beside it, and like.. reconfirmed the directory that was already there? idk
The directory was C:\vcpkg\packages\luajit_x64-windows\include
and then everything just magically worked and build succeeded.
I guess it's compiled.. but no idea wtf to do now.
Honestly, I feel bad for every person who has to go through this.
Last edited: