Hello friends of Otland

, I need help with an error that causes me on my 8.60 server, currently I use Otx 2.9, the problem is the following.​

After certain hours that the server is online, an error appears that says

invalid account

, but the server is still online, on the website you can enter your account and everything is fine, it also does not mark any problem in the console when it happens This only appears when the player's

Don't save Name chart

is logged in, also to solve this I have to restart the server and everything returns to normal, I currently have a Linux Ubuntu 20.04 vps where I have it hosted, Also try restarting the vps and someone is still having the same error after a few hours, if you know how to solve it I would appreciate it if you could correct this error.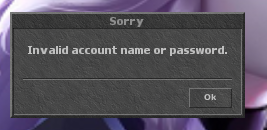 this is a picture of the problem i get and have this code when close server ​
Code:
theotxserver: /usr/include/boost/thread/pthread/condition_variable_fwd.hpp:81: boost::condition_variable::~condition_variable(): Assertion `!posix::pthread_mutex_destroy(&internal_mutex)' failed.
Aborted (core dumped)
I hope you can help me with this problem
.