Joined

Apr 9, 2018
Messages

264
Reaction score

199
Server Website/AAC :
https://scatha.wearedragons.net
Server Address : scatha.wearedragons.net
Hosted in Canada with EU proxy
Server port: 7175
Client : 8.0 / own custom client
Launch date: 19.05.2023

Server Rates
*Loot rate 2.5x
*Skill rate 2x
*Magic rate 1x
*Experience static 2x
Rest of changes and images are available at at
discord
- #changelog-reborn channel
Greetings, adventurers of We Are Dragons!
We are thrilled to announce the launch of a new world on 19.05.2023, featuring numerous improvements and upgrades based on your valuable feedback:
Paperdoll showoff customization:
We Are Dragons has implemented a complete palette of colours that players can use to customize their helmets, armor, legs, boots, and wings items. This new feature allows players to personalize their character's appearance in a whole new way.
With hundreds of custom items available in the game, the possibilities for customization are endless. Players can experiment with different combinations of colors and items to create a truly unique look for their character. This feature adds a new layer of depth to the game, allowing players to express their individuality in a creative and fun way.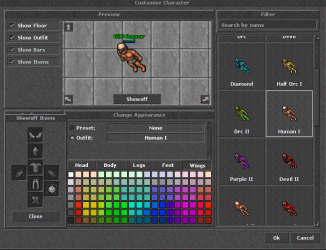 ​
SHOP - Gem Boxes F2P:
We Are Dragons decision to
remove all crafting boxes from the store
, except for the crystal box with hp/mp/enchant/speed gems, came after much feedback from the community. This move aims to give free-to-play (F2P) players more opportunities to compete against pay-to-win (P2W) players.
By making all other gem boxes grindable, We Are Dragons is promoting a more inclusive and fair gameplay environment. This move may encourage players who were previously discouraged from playing the game to give it another chance. With the removal of crafting boxes and the shift to grindable gem boxes, We Are Dragons is making sure that all players have an equal chance to succeed in the game.
From now on,
all gem boxes can be obtained by grinding in-game
through:
-daily quests
-monsters
-demonic system
-tasks
-golden tokens
-events
Attack Speed:
The biggest change in We Are Dragons is the doubling of the base attack speed. This change will have a significant impact on the gameplay experience, especially for new players. With the increased base attack speed, players will be able to enjoy faster and more dynamic combat right from the beginning of the game.
The faster attack speed will also make it easier for players to complete quests and level up quickly. This change is a testament to We Are Dragons commitment to providing a fun and enjoyable gaming experience for all players.
Sources of attack speed:
-Promotion +2%
-Grand Promotion +2.5%
-Ancient Promotion +2%
-Hermes gems +5%
-Weapons up to 10%
-Reborn tee 2.5%
-Legendary weapon tier +6%
There will be a total of 30% attack speed obtainable in-game, which will increase from 2 attacks per turn to 5 attacks per turn.
Overall, the doubling of the base attack speed is a game-changer for We Are Dragons. This change will provide a more enjoyable and dynamic combat experience for players of all levels, from new players to experienced veterans. With this change, We Are Dragons is continuing to evolve and improve, making it an even more exciting game to play.
New Relic Slot:
New inventory slot - relic that will provide players with additional bonuses. This new slot can be upgraded by using gems and every relic item will have a base loot boost and experience boost. The introduction of this new slot is an exciting development for players who are looking for more ways to enhance their gameplay experience.
10 new relics:
New relics are available for the slot under boots. Each relic grants a loot % bonus and additional damage bonuses for mages (magic % damage) or melee classes (single target % damage).
Beginner Relic: 1%/1%
Heavenly Relic: 2%/2%
Sea Order Relic: 3%/3%
Flame Order Relic: 4%/4%
Wind Order Relic: 5%/5%
Light Order Relic: 6%/6%
Death order Relic: 7%/7%
Dhurmond Relic: 8%/8%
Samurai Relic: 9%/9%
Vampire Kingdom Relic: 10%/10%
​
Changelog:
Magician changes:
-21 supply missions with unique rewards
-Training Wands
Mana Potions cap changes:
100 Great Mana Fluid 360 -> 220
100 Ultimate Mana Fluids 720 -> 340
100 Ancient Potions 820 -> 440
100 Godly Potions 1460 -> 650
Mana Potions price changes:
Great Mana Fluid 350 -> 280
Ultimate Mana Fluid 1200 -> 900
Ancient Potions 3200 -> 2400
Godly Potions 6500 -> 4000
Mana Potions formula changes:
Great Mana Fluid 130-160 -> 170-210
All fluids since Ultimate got custom values formula:
Ultimate Mana Fluid magic level 65 example:
The formula is based on player magic level(total which means bonuses from gear also counts)
Assuming that the player's magic level is 65, the amount of mana that the player will receive will be a random value between:
Old formula values:
Local min = 2.0
Local max = 3.5
getPlayerMagLevel(cid) * min and getPlayerMagLevel(cid) * max
The minimum value was: 65 * 2.0 = 130
The maximum value was: 65 * 3.5 = 227.5
New formula values:
Local min = 3.0
Local max = 4.5
getPlayerMagLevel(cid) * min and getPlayerMagLevel(cid) * max
The minimum value will be: 65 * 3 = 195
The maximum value will be: 65 * 4.5 = 292.5
Ancient Mana Fluid magic level 125, and level 400 example:
The formula is based on player magic level and level(total magic level which means bonuses from gear also counts)
Assuming a player level of 400 and a magic level of 125, the amount of mana that the player will receive will be a random value between:
Old formula values:
Local min = 2.0
Local max = 3.5
(getPlayerMagLevel(cid) * min) + getPlayerLevel(cid) * 2 and (getPlayerMagLevel(cid) * max) + getPlayerLevel(cid) * 2.3
The minimum value was: (125 * 2.0) + (400 * 2) = 1050
The maximum value was: (125 * 3.5) + (400 * 2.3) = 1357
New formula values:
Local min = 3.0
Local max = 4.5
(getPlayerMagLevel(cid) * min) + getPlayerLevel(cid) * 3 and (getPlayerMagLevel(cid) * max) + getPlayerLevel(cid) * 4.5
The minimum value will be: (125 * 3.0) + (400 * 3) = 1575
The maximum value will be: (125 * 4.5) + (400 * 4.5) = 2362
Godly Mana Fluid magic level 125, and level 400 example:
The formula is based on player magic level and level(total magic level which means bonuses from gear also counts)
Assuming a player level of 400 and a magic level of 125, the amount of mana that the player will receive will be a random value between:
Old formula values:
Local min = 2.0
Local max = 3.5
(getPlayerMagLevel(cid) * min) + getPlayerLevel(cid) * 3 and (getPlayerMagLevel(cid) * max) + getPlayerLevel(cid) * 4
The minimum value was: (125 * 2.0) + (400 * 3) = 1450
The maximum value was: (125 * 3.5) + (400 * 4) = 2037
New formula values:
Local min = 3.0
Local max = 4.5
(getPlayerMagLevel(cid) * min) + getPlayerLevel(cid) * 4 and (getPlayerMagLevel(cid) * max) + getPlayerLevel(cid) * 6
The minimum value will be: (125 * 3.0) + (400 * 4) = 1975
The maximum value will be: (125 * 4.5) + (400 * 6) = 2962
Complete changelog:
Adjusted the HP gained by pets on level up.
Pet lvl 1-99: 30 HP -> 25 HP
Pet lvl 100-199: 40 HP -> 30 HP
Pet lvl 200+: 50 HP -> 35 HP
1) Increased chances of getting gem boxes demonic 5% -> 20% archdemonic 10% -> 30%,
2) Updated attack speed on following items:
Angel Bow
Skull Crossbow
Demonic Axe
Skull Axe
Crystal Axe
Diamond axe
Ancient axe
Flame axe
Demon blood axe
Demon blood bow
Demon blood club
Grandmaster axe
Devilspawn bow
Lucifer blade
Poisoned crossbow
3) Removed possibility to exchange Crystal Box into enchanting box gem
4) Removed boxes from cards game (complete info related to cards changes will be in next changelog)
5) Updated price of mana leech box (same like critical)
6) Implemented new ammunition quest NPCs at Dragonfall blacksmith +1 floor
7) Diamond arrow 55 atk -> 38 atk
8) Fixed protection and some other gems not working
9) Added loot message details for Demonic Monsters at server log channel
-Fixed attack speed values, it will show now proper numbers on market/stats panel/look etc.
-Fixed monster kill points and task kill points to ensure that the kill count does not exceed the maximum value.

10) Added 150 level requirement and 1 reborn to frozen weapons quest
11) Added 3 new Quivers ( 20 / 30 / 40 slots )
12) Added Diamond / Red Diamond backpacks ( 40 slots )
13) Fixed attack speed values on legendary items
14) Nerfed Diamond Nexus and Diamond Warlord for the first sunday event
15) Added Paperdoll Colours Unlock gem
16) Added priority system to the Store
17) Fixed prices of Crystal Box, Golden Accounts, lowered price of Protection gem 100->50
18) Added animated text on ground feature, which will repeat dungeon name and level requirements
19) Added excercise / training wand to train magic level, with charges counter on look
20) Added new quivers, backpacks, training wands to store
21) Addeed preview of aura orbs effects at store
22) Added 2 more types of training wand, strong and ultra
23) Fixed setup of paladins/mages supply missions
24) Removed Ancient promotion requirement from Ultimate Manafluids
25) Removed all kind of gems/boxes as requirement to craft rare/epic/legendary sets:
-Ancient Amethyst
-Cthsual
-Reaper
-Frozen
Other sets had no gems/boxes requirements
26) Added teleports to the basic dungeons lvl 20 - 110 at Dragon Fall ( Adventurer Guild Master building )
27) Increased all mana potions values, and lowered the cap
28) Changed name of all Reroll scrolls to Reforge Scrolls
29) Adjusted prices of all Legendary Crafting NPCs ( mainly removed gem requirements )
30) Added 36 missions related to supply access(Dragon Fall Forge and Magic Academy)
31) All random Magician NPCs will no longer offer Ultimate, Ancient, and Godly Potions. These high-quality potions will now only be available from Supply Mission NPCs at Dragon Fall Academy.
32) All random Ammunition NPCs will no longer offer Reaper, Golden, Holy, Demonic, Frozen arrows and iron, infernal Bolts. These high-quality ammunition will now only be available from Supply Mission NPCs at Dragon Fall Forge.
Diamond outfit mission won't be required anymore, all types of arrows/bolts will be available from 3 NPCs at Dragon Fall Forge.
33) Fixed setup of paladins/mages supply missions
34) Removed Ancient promotion requirement from Ultimate Manafluids
35) Removed all kind of gems/boxes as requirement to craft rare/epic/legendary sets:
-Ancient Amethyst
-Cthsual
-Reaper
-Frozen
Other sets had no gems/boxes requirements

37) All random Magician NPCs will no longer offer Ultimate, Ancient, and Godly Potions. These high-quality potions will now only be available from Supply Mission NPCs at Dragon Fall Academy.
38) All random Ammunition NPCs will no longer offer Reaper, Golden, Holy, Demonic, Frozen arrows and iron, infernal Bolts. These high-quality ammunition will now only be available from Supply Mission NPCs at Dragon Fall Forge.
Diamond outfit mission won't be required anymore, all types of arrows/bolts will be available from 3 NPCs at Dragon Fall Forge.
39) Increased base deathloss 9% -> 11%
40) Lowered normal bless from 5% to 3%
41) Added ultra blessing 2%
42) Added AoL blessings (free amulet slot)
43) Added 100% skills/magic level blessing
44) Added notifications on login if player is blessed or not ( ultra bless / aol bless )
45) Temporarily turned off feature which blocks the player from removing items with PvP power during fight
46) Removed Hermes Wands from Wizard Blacksmith
47) Fixed visual spell effects issues on :
-Fallen Archangel
-Alchemist Archmage
-Ancient mutated dragon
-Awakening mage
-Dark dwarf geomancer
-Dark dwarf
-Emperor of the Death/Light/Wind
-Nuckelavee
-Voodoo reaper
48)Lowered Demonic Monsters Health:
Demonic 400% -> 200%
Archdemonic 800% -> 300%

Map fixes:
-Fixed bridges at Dragon Fall Hydras
-Fixed wall map issues at Dragon Fall Hydras
-Fixed map details at Dragon Fall Dragons
-Fixed map details at Dragon Fall Elfs
-Fixed map details at Dragon Fall Pirates
-Fixed map details at Dragon Fall Dragon Lords
-Fixed map details at Dragon Fall Goblins
-Fixed map details at Dragon Fall Tormented Souls
-Fixed movable Ancient Dragon Knight statue at Dragon Fall Mercenaries
-Fixed Dragon Fall Castle 1 tower house
-Revamped Grand Archangel boss room
-Revamped Arctica Town, fixed map details

49) Monsters will respawn even with player on screen
50) Gorgol blacksmith doors at Storm Island will be available for players which killed Immortal God
51) Fixed scroll exchange for Wind Order Magic Shield
52) Changed all belts attribute Single Target Damage % -> Physical Damage %
53) Added new graphics for training weapons
54) Fixed wrong values of attack speed (stats panel,look etc)

55)Added new training weapons
-Weak Training Spear (15% AS / 10 HOURS)
-Strong Training Spear (20% AS / 10 HOURS)
-Ultra Training Spear (25% AS / 10 HOURS)
-Weak Training Sword (15% AS / 10 HOURS)
-Strong Training Sword (20% AS / 10 HOURS)
-Ultra Training Sword (25% AS / 10 HOURS)
-Weak Training Axe (15% AS / 10 HOURS)
-Strong Training Axe (20% AS / 10 HOURS)
-Ultra Training Axe (25% AS / 10 HOURS)
-Weak Training Club (15% AS / 10 HOURS)
-Strong Training Club (20% AS / 10 HOURS)
-Ultra Training Club (25% AS / 10 HOURS)
56 )Fixed dark slayers / dark hunters mission at Gilded Gabriel NPC
57 )Fixed rewards from Ancient Potion mission
58) Aura orbs changes:
Yellow Auraorb +5 speed, +2 magic levels -> +1% mana leech, +3 magic levels
Red Auraorb +3 all melee skills -> +1% critical hit chance, +5% critical damage
Green Auraorb +50 healing power -> +50 healing power, +2% healing percent
Blue Auraorb +2% protection all -> +3% protection all, +50 health points
59) Saving whole progress from Dragon Fall missions during reborn
60) Removed old, unusable blessing NPCs
61) Fixed buying bless via Hermes
62) Fixed atk speed of saint items 8% -> 9%
63) Fixed relic blacksmiths, so they will talk to players with required reborn or higher
64) Added lower tier relic requirement to craft higher tier relic
65) Added Urtrudurk Relic Keeper NPC
66) Restored 15 minutes 30% exp boost to 15 minutes 50% exp boost
67) Added new NPC Apollo to every temple. He is selling new blessing scrolls. (Access from new dungeon)
68) Added teleport to Spirits Quest at Dragon Fall Temple
69) Added text message at teleports to Spirits Quest
70) Fixed Red Diamond Backpack slots 20->40
71) Added to !blessing command information about 100% Bless Scroll / AoL bless scroll
72) Fixed Death Order Axe/Club/Sword attack speed
73) Fixed attack speed of Ultra training sword


Cards game:
Earth card
Replaced gem boxes with AoL blessing scroll

Energy Card
Replaced gem boxes, and basic 15% exp boost scroll with AoL blessing scroll + instant +50% exp required to lvl up scroll

Fire Card
Replaced gem boxes with 100% skills/magic level protection blessing scroll

Ice Card
Added 100% skills/magic level protection blessing scroll

Golden Card
Added Ultra Blessing Scroll, Vampire Amulet