Joined

Aug 11, 2021
Messages

56
Solutions

3
Reaction score

12
Guys I have been a couple years out of the otservers world. Anyway I just downloaded an old backup I had because I want to come back to it.
I have changed my internet a couple times since that time so it seems that the configurations I used in the past are not working anymore.
My website and otserver are working just fine locally, but I can't access from outside.
UniformServer is showing this messages in Server Internet Status: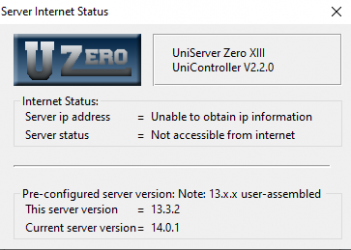 Ports 7171 7172 8080 are open as I checked in like 3 different port checkers website.
When I type
what is my ip
on google it shows that weird s***:
Inside
www.whatismyip.com
shows that my public ipv4 is: 177.16.56.41
When I use the command ipconfig on cmd it shows this:

Tried placing every single ip adress on config.lua to enter the game or using :8080 on web browsers to access the website but just can't do it.
Also tried to use No-IP to get a dynamic ip but still no success.
I know it is probably some very simple thing I'm missing but I really need a light from outside.
Thank you all.