Hello everyone,
Let's put all wars and conflicts aside for a moment and imagine ourselves as a pantheon of gods impacting the multiverse of opentibia (directly or indirectly) with their actions.
Since this year is anniversary year for OTLand, I decided that it's the best year to make a sort of group pic using in-game assets of unmodded client to represent your avatars.
So far I've got this: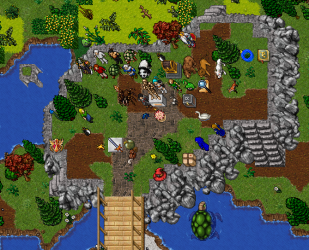 Note: This isn't about who stands next to who and who was good and who was bad, it's about the scene as a whole.
The picture is still missing a lot of people so I'm open to your suggestions. Some avatars are difficult to represent in-game so don't forget to include an outfit/item in your suggestion.
I will also answer the questions who is who if it is unclear.
Which person/what iconic thing would you like to add to the picture?