Ever Wanted you make a Custom client of your 10.x server? And never Knew? I will explain in a Step by Step How to do it
First of All:
Needed Programs:Hex Editor Or Notepad++(Includes Hex Editor)
IP:
First Open Tibia In Hex Editor as Below:
Then Search for "login01." As Below
Now The Tricky Part!
Lets Say your Ip is numbers, then you do like below
Ok What i Did?
Lets Say this is the Hex
login01.cipsoft.com login02.cipsoft.com -- i want my ip to be lets say 192.16.212.1
192.16.212.1
you will now have something like this
192.16.212.1oft.com login02.cipsoft.com
then you go on left side
And change Whatever Number or symbol there to 00 Like Shown Above
Now IP is Done,Congratulation
------------------------------
Now Port
Port is written in a weird way in tibia Client.
Just open the Hex Editor and do like this
Why 03 1C ?
Port is 7171, Changing it to Hex will be -> 1C 03 , Its written inverse in Tibia Client, so if you want to make your Port 7000
7000 -> 1B 58 -> 58 1B <-- you should write this in your tibia client and so on
How to know it?
Just open the calculator
Then click Hex and done
Port is Done,
---------------------------
Now RSA
open Hex Editor And search for this:
you should get This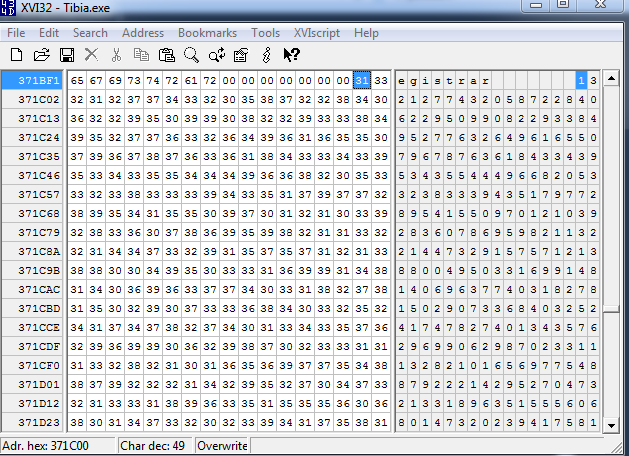 Now replace the whole string
Code:
13212774320587228406229509908229338495277632649616550796787636184334395343554449668205332383339435179772895415509701210392836078695982113221447329157571213880049503316991481406963774031827815029073368403252417478274013435762969906298702394175817
TO
Code:
109120132967399429278860960508995541528237502902798129123468757937266291492576446330739696001110603907230888610072655818825358503429057592827629436413108566029093628212635953836686562675849720620786279431090218017681061521755056710823876476444260558147179707119674283982419152118103759076030616683978566631413
PS
refered To be Done in notepad++
Congratulation,You now have your own custom client
For Picture Editing,Use this Program
https://otland.net/attachments/unpack-pack-zip.1634/
---- Notepad++, How to make it support Hex Editing -------
1-Open notepad++
2-Plugins -> Plugins Manager -> Show Plugins Manager
3-Search for Hex Editing and Click Install
4-Restart Notepad++
5-Open notepad++ then Open tibia.exe
6-Choose The H Letter in Toolbar
Demonstrating Photo

Thanks for Reading my Tutorial
Last edited: