Hello OTLand!
A hundred years ago we made a server that never saw the light of day. For the sake of sentimentality and all that, we decided to put it online. This server is The Lost Lands - the Terror of Nestor Horne. We have had it up and running for a few days for a number of privateers, and they have been hacking away at the hull to see if the ship holds - and indeed, we seem rather stable. And so, we welcome anyone who wants some RPG adventure in an old classic client to join. If ever you played our old server, you know what to expect here: storylines, exploration, interaction and a hundred million quests and secrets. This is an entirely new map, though, so expect the unexpected!
You can choose to play with a normal tibia client (as downloaded
HERE
) or with the custom client (
HERE
). The IP address is
51.89.151.247
. The website is
.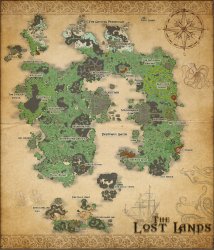 Here follows the minimap, and a number of screenshots for your viewing pleasure!
The main antagonist himself - Nestor Horne.
The pirate-infested Rocky Reefs.
Sexual misconduct from our esteemed Captain Bonnie Anne.
The mysterious fortress in northern Sharkshelter Key.
The abyssal reefs deep below the southern tropical islands.
The notoriously elusive Demon Hunter.
Unknown Hell Gate in the Fire Lands.
The famous Shrine of Eternity, which apparently belongs to this short-legged fellow.
The desolate wastelands amid the Silenraun Needles.
The Gate of the Snake Gods.
The occult Temple of the Damned.
The sealed entrance to the legendary Vanishing Tower,
where the warlocks study their arcane magics.
The heavily fortfied entrance to Willowshire Cove.
Strange monuments and legends in Acherwind Vault.
Castle Rose in all its splendor.
Frozen waterfalls and geysers beneath the dazzling Crystal Peninsulas.
The deep mines of the Ingotbellows Clan.
The dark ruins of Karukos, where dwell secrets best left unspoken.
Kevh - perhaps the strongest sorcerer in these lands.
The secret library of Khul Amon.

Server Information:
Exp and skill: 3x
Monster loot rate: 1x
Magic rate: 2x
Skill rate: 3x
Server version: 8.54
Port: 7171
IP: 51.89.151.247
Website:
Tll (http://thelostlands.online/)
The majority of vocational and magic related settings are the same as 8.54, but we have turned off soul points.
For the straying newcomer, there is a small beginner's guide on the website, but you can ask the temple NPCs for help if you're looking for anything, and there are city guides as well. You can also find directions to this and that and whatnot in the libraries.
​
See you ingame!
/Steven and MmB
Last edited: