Joined

Aug 3, 2009
Messages

639
Solutions

2
Reaction score

358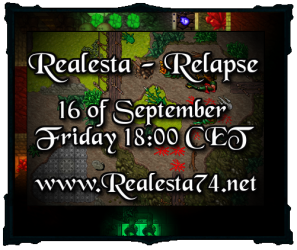 Official Website:
Realesta74.net
Fan sites:
Discord
Fanpage
[World configuration]:
-Low rate 7.4 Realmap Server
-PVP-Enforced
-Datacenter Gravelines, France (Europe)
-Custom made Antibot Client
-Advanced proxy system!
-Built-in cam system.
-Server save at 10:00 AM.
[Experience stage]:
1. Stage : Level 1 to 20 : 12x
2. Stage : Level 21 to 40 : 8x
3. Stage : Level 41 to 60 : 6x
4. Stage : Level 61 to 80 : 4x
5. Stage : Level 81 to 100 : 3x
6. Stage : Level 101 to 150 : 2x
7. Stage : Level 151+ : 1.5x
This stage can change at any time up to the start.
[Battle Configuration]:
-Frags to Red Skull: 3
-Frags to Ban: 6
-Frag duration: 15h
-Unjustified player killing ban time: 7 days.
-Final ban time: 30 days.
-Red skull disappear when all frags gone.
-Warnings to 7 days ban: 1
-Warnings to 30 days ban: 2
-Warnings to deletion: 3
[Gameplay]:
-Modified speed formula
-Expshare & Vocation Hunt
-Boosted spawns
-Instant travel "bring me to"
-Properly oldchool UHTrap
-Summons does not take experience
-Server is using account balance and transfer system in NPCs
-Advanced Tasks.
-Extensive Wiki page
-Live Cast system (Cast gives you 10% more exp if you enable it without password)
-Cam system (Each player is constantly being recorded and he decide what to share)
-Guild war system
-Advanced walking system
-Market system
-Loot analyzer system
-New house system that guest player cannot move items in house
-Anty skull bashing on battle
-Anti depot trash
-Global depot
-Protection of noob-chars during the war
-Re-open backpacks when re-login
-Boosted bed regeneration
-New Hunting Places.
-New Outfits.
-And many more.
Register faster and make a character on "Relapse" 24h before the launch and you will receive an extra 2 days of Golden Account!
Send invitations for other players via our Referral System in order to receive an additional Premium Points!
If you are streamer message us, we will support you and promote you on our website in the Streamers sesion!
More detailed
informations
and updates!
Screenshoots!
Videos!
​