Joined

Nov 7, 2020
Messages

16
Reaction score

7
IP: Tibiera.net
Port: 7171
Client: Tibia OWN CLIENT
Uptime: 24/7
Hosted in: France, on a dedicated server with 1000 mbits Internet connection.
Website:
https://tibiera.net/
Exp rate:
Level 8-50 > 50x
Level 51-70 > 25x
Level 71-90 > 10x
Level 91-100 > 5x
Level 101 > 1x
Regeneration 4x
Loot rate: 3x
Server type: Pvp-Rpg. 3 kills gives you Red skull and 6 lends you to a ban.
Skills & Magic rates: 12x Skill and 6x Magic.
We've updated the game engine to support multiple worlds today, also every player has been teleport to the temple.
With this new feature, we'll be able to open new worlds, try diffrent PVP Options for all players, encourage players to experiment our new servers, and more.
Hello dear Tibia player, welcome to Tibiera server based on the Nostalrius Engine but heavily edited to match and revive the feeling of the Oldschool Tibia with custom modifications.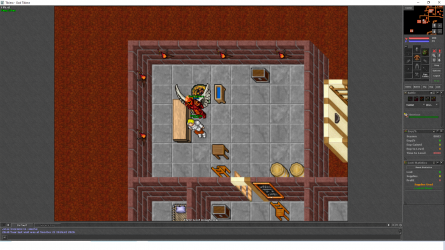 What we have?
A modified speed formula
Smooth rune aiming and smooth walking (You aren't going to feel lag on this server, due to OTClient V8).
Expshare & Vocation Hunt
Instant travel "bring me to" on the boat NPCS
Properly oldchool UHTrap
Advanced Task system
Live Cast system (Cast gives you 10% more exp if you enable it without password)
Backpack setup save system (Saves your open backpack when you logout)
Guild war system
Rashid npc travels between cities
Blessing system
All spells, promotion and travelling by boat available for free accounts
Royal account gives 10% experience and other small benefits.
You can make runes here from your own backpack
All of the conjured runes and ammo has 2x charges!
All rune & potion Npcs sells bp blank rune, bp mana fluid and life rings
About our client
Our client has been built to mimic the feeling of Old Tibia, as seen on many other servers, it has been entirely built on OTClient V8, new custom client behaving inspiration on another server. The client itself contains:
Enhanced ping function
Smooth walking system
Internal Updater
Loot Statistics and Exp/h Statistics
Customizable Panels
And more features.
About the future server lifespan
Tibiera has the plan to stay long as the same users stay with us, the plan with a low rate server is to have a long-term server, even if we don't have players online we assure that as long our server is online, your account will be there, we don't expect to have an account wipe.
Our plan is to bring new updates regarding the gameplay to mimic old and classic tibia meanwhile we're keeping the updates on our engine.
Custom Spawns​
Here you can find new hunting places!
1. Dragon Lord mountain
2. Huge Necromancer Lair
3. Hydra Sanctuary
4. Black Knight Fortress
5. Hero Hideout
6. Revamped Demons
7. Pit of Inferno Dragon Lords
8. Thais Ghoul Cemetery
9. Demon Outcast
10. Solar Dragon
11. Grim Reaper
12. Black Dragon
13. Frost Dragons & Frozemoths (Vega)
We hope to see you online and welcome to this project!
Last edited: