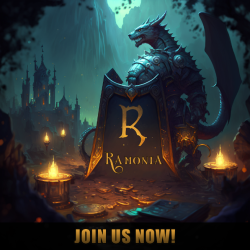 ​
Ramonia - a custom-made, long-term project that aims to bring the classic Tibia experience into the modern age while preserving its beloved mechanics and RPG style. With a mix of both classic and updated content, our world offers a unique and immersive gaming experience.

Starting on 17th February at 18:00 CEST, we invite you to join us on our journey and explore a world filled with challenging quests and fearsome monsters. As a special welcome, all players who join us before the launch will receive 2 days of premium account.
17th February at 18:00 CEST​
Experience Stage:
01 lvl to 07 lvl : 7x
08 lvl to 20 lvl : 5x
21 lvl to 40 lvl : 4x
41 lvl to 60 lvl : 3x
61 lvl to 80 lvl : 2x
81 lvl to 100 lvl: 1.5x
101 lvl to 120 lvl: 1.3x
121 lvl to 130 lvl: 1.2x
131 lvl to 999 lvl: 1.1x

Rates:
Magic rate: 2x
Skills rate: 3x
Loot rate: 3x​
Each vocation possess new or tweaked spells. We tried our hardest to balance the vocations so that all of them would be enjoyable in PvE as well as in the PvP gameplay:
​
- Knight - Fierce Berserker deals 60% higher damage than usual Berserk. Better instant healing - "Wound Cleansing".
​
- Paladin - New ammounition (spears, arrows, bolts). New spells - "Divine Caldera" & "Ethereal Spear".
​
- Druid - Poison Storm deals 80% of UE damage. Poison Storm applies physical damage.
​
All the tweaks were made to accelerate PvE & PvP feelings in short time.
​
Shared Experience System

​
You can trigger shared experience by using "!share" command or by RBM click. Shared experience gives you up to 40% bonus exp:
​
- 2 different vocations - 10% bonus experience,
​
- 3 different vocations - 20% bonus experience,
​
- 4 different vocations - 40% bonus experience.
​
Features:​
autosaving backpacks - after relogging your bps stay in the same order,
AoE spells & runes reduction base on amount of players on screen,
exchange system (major/minor crystalline tokens),
highlighted loot channel,
anti-depo trash system,
PVP-Enforced,
mounts.
More systems and informations can be found on our Wiki: (Ramonia Wiki (https://ramonera.net/ramoniawiki/html/about.html)).


Our team is dedicated to creating an unforgettable experience and we welcome feedback from our players to continue improving the world of Ramonia.
Get ready for an exciting adventure and relive the magic of Tibia with a fresh start.

To celebrate our upcoming launch, we are hosting a lottery on our Facebook fan page. All you have to do is like and comment under the post for a chance to win some amazing prizes.
​